This short tutorial explains how to create your own Hotspot by connecting devices, and installing HotSpot software on your computer
Easy way to setup Antamedia Hotspot software
Antamedia HotSpot helps you in controlling and billing your customers for the Internet usage. It can also be used for providing Free Access for customers in your Hotel, Cafe, Restaurant, company etc. Antamedia HotSpot is a Windows PC software and does not require any Client software installation. Upon connecting to your network (using wireless cards or UTP cable), customer will be prompted to enter valid username and password to get Internet access.
To setup a Hotspot, you'll need:
• Windows PC with 2 network cards
• Internet modem/router
• Device for providing access to users (Wi-Fi router, Access Point or Switch)
Please connect one network card to the Internet router and other one to a device that your customers will use to access Hotspot. If you plan to use a Wi-Fi router to provide access for customers, connect it to Hotspot server pc using its LAN (not WAN) port.
Software includes billing, statistics and reporting with many useful features. It is hardware independent and you can use any type of access points, routers, switches and other equipment to control your WiFi, WiMax, LAN, Cable, DSL, Satellite and other type of network connections.
Please refer to diagram below for details.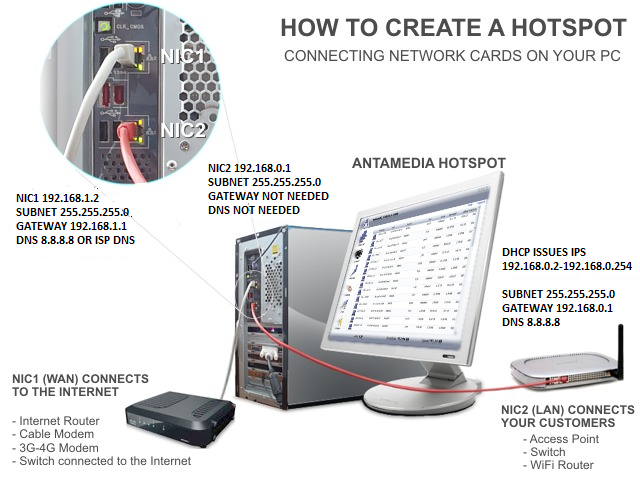 Please make sure that following prerequisites are met before installing Hotspot:
• Windows account on which Hotspot will be installed has administrative privileges and Windows User Account Control is set to Never Notify level (Windows Vista, 7).
• Fixed IP addresses are configured on both network cards. Please note that they need to be configured in different IP address range, not bridged. Refer to diagram above for example.
• There are no applications running on Hotspot PC that are using port 80 (web server, proxy server software).
DHCP server has to be configured on the Hotspot (internal) network. Note that Internet modem/router cannot be used as DHCP server for your clients. Following options are available:
• Set your Wi-Fi router/access point to act as DHCP server for clients. This is recommended option for smaller networks (up to 250 users).
• Using Hotspot's built-in DHCP server
• For medium and large networks, we recommend using Windows Server DHCP
After pre-installation steps are completed, please proceed with Hotspot installation:
• Start the Hotspot installer and use Express Installation option to install the software, click Reboot button to restart the PC after installation process is
finished
• When Hotspot starts automatically after restart, click Login button and go to Setup – Network – Network Setup page
• Click Automatically Configure button, Hotspot should automatically recognize network cards in the computer
• Tick Enable NAT (Internet Sharing) and Autostart Hotspot options
• Click Save then Start button
Try it Free
Free support to get setup fast and easy.

Learn the powerful management features.

Buy it when you are convinced we are the best.
No credit card or E-mail required
Buy Your License
No reinstallation. Keep all your configurations.

License is good forever. Free updates included until next major release.

Free technical support: Email, Phone, Online chat
We've been using your hotspot software for over 6mths now.
We wanted a product that would allow us to grant guests wireless access to the internet without exposing our domain to risk. The solution was to have a separate internet connection with software that would allow us to manage guest usage. Your hotspot software has proven itself to be perfect for that job. It was an easy to install and configure.
Lance Misa – Te Kohanga Reo National Trust – New Zealand
I love the software and I think it's very user friendly and easy to implement. I simply bought an outdoor access point and bridged the connection to get DHCP to do its thing and I had my lab environment up in under 30minutes. What a pleasure!
Nico Jordaan – Wilderness Safaris – Rivonia – South Africa
Build a professional network using telecom grade devices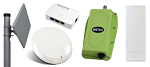 Antamedia HotSpot software works with any hardware, but not all hardware works as expected.
Our devices offer:
Longer range

Up to 225 users per AP

Client isolation

Higher temperature range

More throughput

Brand as your own