This short tutorial explains how to create your own Hotspot by connecting devices, and installing HotSpot software on your computer
Easy way to setup Antamedia Hotspot software
Antamedia HotSpot helps you in controlling and billing your customers for the Internet usage.
It can also be used for providing Free Access for customers in your Hotel, Cafe, Restaurant, company etc. Antamedia HotSpot is a Windows PC software and does not require any Client software installation.
Upon connecting to your network (using wireless cards or UTP cable), customer will be prompted to enter valid username and password to get Internet access.
Minimum System requirements for Hotspot gateway PC:
We strongly encourage you to install HotSpot on SSD drive because it can significantly improve software performance.
CPU: 3 gigahertz (GHz) or faster 64-bit (x64) processor
RAM: 4 gigabyte (GB)
NIC: 2 PCI network interface cards, for maximum performance we recommend using Intel PRO/1000 (EXPI9400PTBLK) network adapters
OS: Windows Server 2008, Server 2012, Server 2016, Windows 7, Windows 8.1, Windows 10.
We recommend Windows Server OS 2016 with DHCP and RRAS roles configured within OS.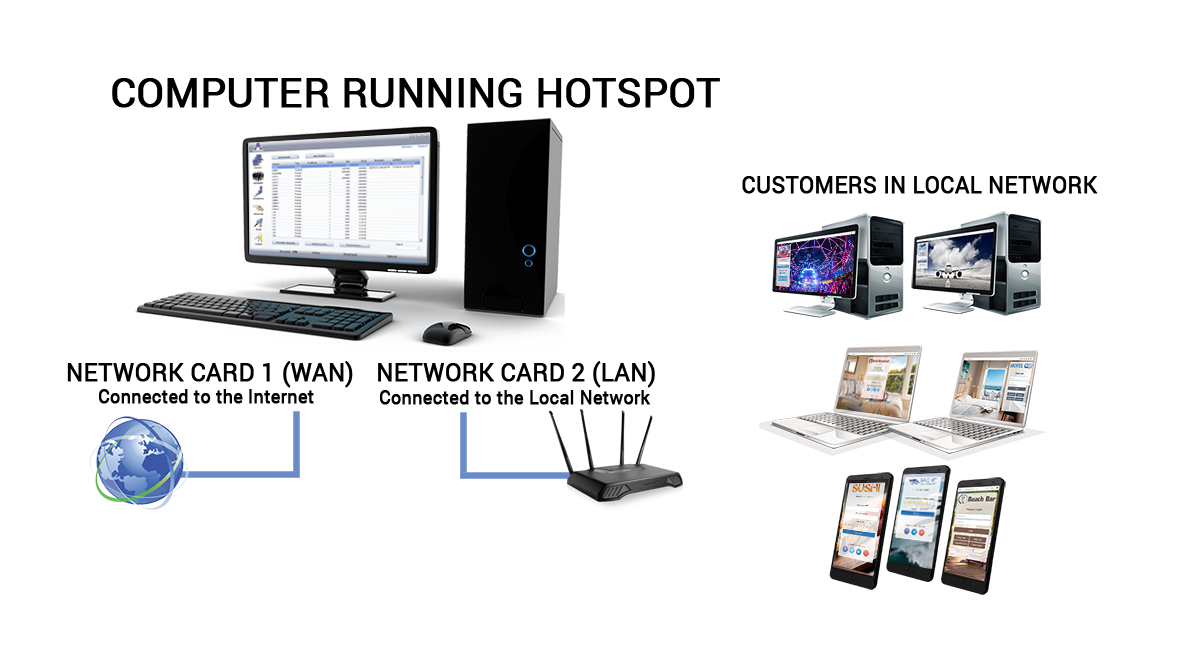 Connect one network card to the Internet router and other one to a device that your customers will use to access Hotspot. If you plan to use a Wi-Fi router to provide access for customers, connect it to Hotspot server pc using its LAN (not WAN) port.
Software includes billing, statistics and reporting with many useful features. It is hardware independent and you can use any type of access points, routers, switches and other equipment to control your WiFi, WiMax, LAN, Cable, DSL, Satellite and other type of network connections.
Please make sure that following prerequisites are met before installing Hotspot:
• Windows account on which Hotspot will be installed has administrative privileges
• Windows User Account Control is set to Never Notify level
• Windows Smart Screen is turned off
• Windows Defender exclusions are set
• Fixed IP addresses are configured on both network cards. Please note that they need to be configured in different IP address range, not bridged.
• There are no applications running on Hotspot PC that are using port 80 (web server, proxy server software).
Please refer to HotSpot Setup guide and follow all Pre-installation steps
DHCP Server
DHCP server has to be configured on the Hotspot (internal) network. Note that Internet modem/router cannot be used as DHCP server for your clients.
Following options are available:
• Set your Wi-Fi router/access point to act as DHCP server for clients. This is recommended option for smaller networks (up to 250 users).
• Using Hotspot's built-in DHCP server
• For medium and large networks, we recommend using Windows Server DHCP
After pre-installation steps are completed, please proceed with Hotspot installation:
• Start the Hotspot installer and use Express Installation option to install the software, click Reboot button to restart the PC after installation process is finished
• When Hotspot starts automatically after restart, click Login button and go to Setup – Network – Network Setup page
• Select correct network interfaces and click Start button
• Click Save then Stop button to apply changes
HotSpot Software V6 – Windows 10 Setup
Try it Free
Technical support to get setup fast and easy.

Learn the powerful management features.

Buy it when you are convinced we are the best.
Buy Your License
No reinstallation. Keep all your configurations.

License is good forever. Free updates until next major release.

Technical support: Email, Phone, Online chat