Engage WiFi audience on smartphones, tablets and laptops with WiFi Ads
Engage WiFi audience on smartphones, tablets and laptops with WiFi Ads


WiFi Advertisements
WiFi is an ideal marketing channel as may show video or image ads before a guest connects to the internet.
Nearly 70% of users would watch ads in exchange for free WiFi. Having seen a video/image ad, a guest will be offered to connect to the Internet and visit the web page with a special offer.
You can setup a marketing campaign that has playlist of ads, which are rotated each time the guest is connected. Detailed analytics includes the number of displayed video advertisements, click-through rates, how successful the campaign is, with PDF reports for managers.
The SMS campaigns and notifications can now be sent to users who have given permission to contact and left a phone number when logging in.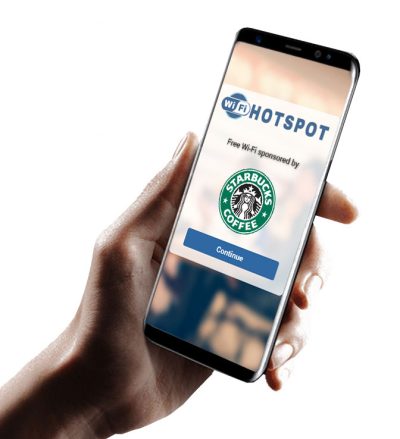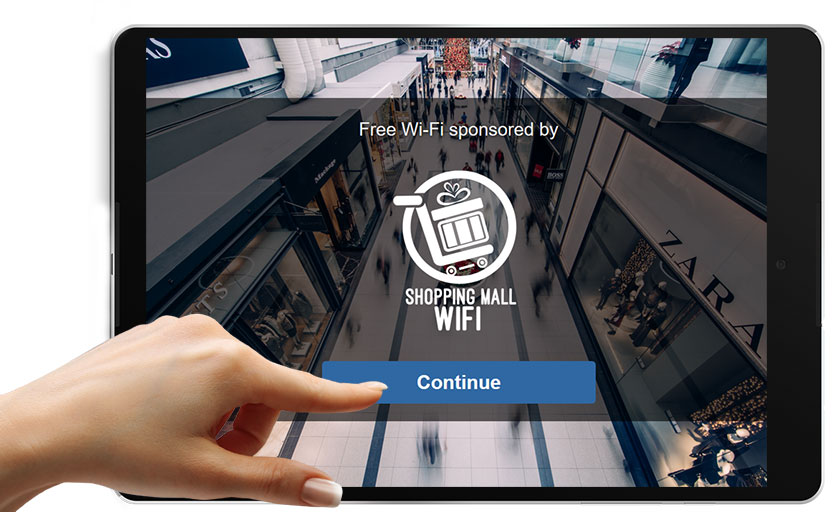 Video Ads
A minimum watching duration can be specified, after which the guest may skip video and proceed to the landing page which contains special offer, registration or just a welcome note.
Those who are not interested can simply continue and enjoy complimentary WiFi.
You'll get detailed stats and analytics who and when watched video, total impressions and clicks and compile reports for your advertisers.
Control smartphones, tablets, laptops, computers

Manage bandwidth, download and upload

User roaming between locations

Hotel PMS Integration: Opera, IDS, Protel …

Autologin – automatic reconnection to WiFi

Multiple devices – setup number of devices/user

URL redirects to desired website or user profile

Splash pages with multiple login methods

Social login: Facebook,Twitter,LinkedIn,Google

Verification via SMS and Email

Targeted video campaigns by age / gender
Session Logs with data/time usage

Marketing Campaign reports

Accept credit cards, 50+ payment gateways

Mobile payments for Africa countries

Voucher-based signup with optional billing

Data export via CSV and PDF

Identify customers based on devices details

Get more reviews/feedback with TripAdvisor

Allow free usage and force users to buy upgrade

Prevent free users relogin before specified time

Identify customers based on devices details

Optional branded HotspotOS for selected APs

High-performance low-cost OEM APs available
E-Mail marketing / Welcome Email

Contact permissions (GDPR compliance)

Custom multilanguage terms of use

Surveys for splash pages and Emails

Aggregated Reports (summarized stats)

Technology Reports (device/browser/OS)

Network Usage Reports (bandwidth consumed)

Visitor Reports (new/repeating)
Image Ads
Easily create image ads and announcements that will be displayed on the Splash page.
Put a latest promotion, display coupon to be redeemed at retail store, offer discounts and invite guests to complete survey or just get more info.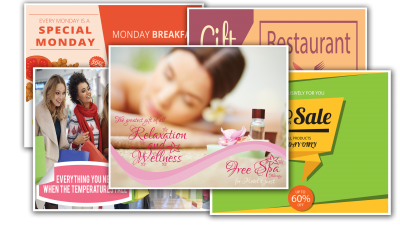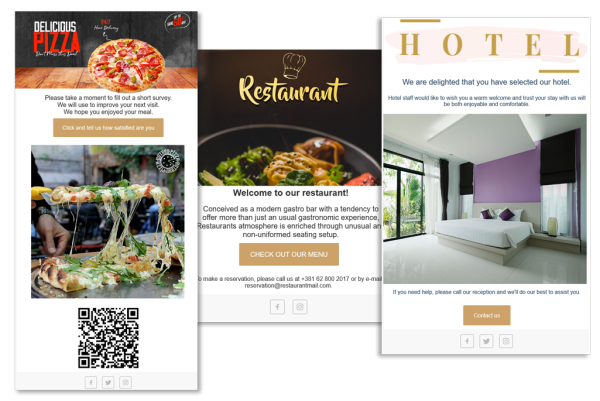 Email Campaigns
Email campaigns helps you send informational and marketing emails to your customers.
Once you design your email template (or customize default template), you can select target recipients, schedule Email campaign delivery time or send as soon as it's ready.
Those campaigns can be sent when necessary, if you want to inform your guests about the novelties, or automatically according to a previously defined schedule which includes initial connection, inactivity or on a guest's day of birth.
SMS Campaigns
The SMS campaigns and notifications can now be sent to users who have given permission to contact and left a phone number when logging in.
A guest must give consent to receive SMS for informational and advertising purposes.
For this feature, Contact permission should be enabled on the Splash page and users need to accept contact permission on their devices.