Free Tips for Your Successful Internet Café Business
Control Internet Cafe usage with proven industry leading software
Free Tips for Your Successful Internet Café Business
What is Internet Cafe ?
Internet Cafe, often called Cyber Cafe, is a place that offers customers hi-speed internet access, other computer services and variety of PC games. It deals with internet time that a customer buys and it can be sold per hour or minute and sometimes longer.
Internet Cafe is the most popular in the world of business people, travelers and tourists, but it also finds good and frequent customers in teenagers and adults who spend a lot of time playing computer games. This place is simply a must for webmail, instant messaging and the best way to keep in touch both in private and professional field.
Internet Café is a place where food and drinks are also usually served.
Internet Cafe Equipment – Necessary and Additional
Setting up of Internet (Cyber) Cafe and the cost of it depends on a number of client computers and services you plan to offer to your customers.
To start Internet Cafe business, you will need:
• Internet connection (ADSL, Cable etc.),
• Client computers,
• Server computer that controls the clients
• Networking hardware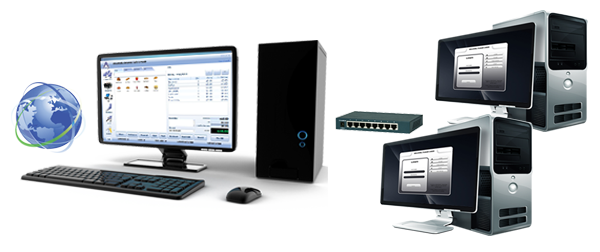 For Internet Cafes that offers only Internet access office programs there is no need to buy very expensive computers. However, if you attempt to offer computer gaming, it is largely recommended to buy high-end graphic cards and processors.
In the most cases networking hardware is not very expensive, however everything depends on a type of network.If you plan to have wired network type, switch or router, and networking cables will be necessary. If you plan wireless network you will need to have wireless access point or router and wireless network cards for your client computers. Of course, if required, you can make a combination of wired and wireless network.
Beside required hardware for successful Internet Cafe business, it is fully recommended to use Internet Cafe management software.
Internet Cafe software is a server / client based application, used to manage customer accounts, security setup, charge POS items and get the latest statistics, logs and detailed reports.
With Internet Cafe software, client computers are fully protected and no one cannot use for free the services offered by your Cafe. Client computers are protected with the log-in page that requires pre-paid account to start work, or it demands to wait for a person to open the client computer from server computer.
When customers pre-paid account expires or customer finishes the job, client computer is automatically protected again with the login page and waits for the next customer.
Give discounts for selling more login tickets in your Internet café
Make your special pricing plans for your members. Give discounted prices to your regular members and they will always come back to your Internet Cafe for your services. Attract new members with discounted pre-paid login accounts. Sell more pre-paid time for lower price (Example: sell 3 hours ticket with 10% discount, 5 hour ticket with 25% discount etc.)
Advice 2
Protect and keep fresh client computers for your next user
Protect and keep fresh client computers for your next user
Don't allow file saving anywhere on client computer hard disk. For this it is advised to use Internet Cafe software to block 'Save' command completely or just allow 'Save' in one hard drive partition and make all other partitions invisible for the customer. After client computer is once used, Internet Cafe software has the ability to close all previously opened programs or automatically restarts the client computer. In this way it always keeps it fresh for your next customer
Extra-charging for special and additional services
Some people come to Internet Cafes to use external hardware offered there, since they are not well equipped at home or simply do not have these electronic privileges (example: to print and scan documents, burn cd and dvd, for faxing service etc.). If you have an Internet Cafe in a place attractive for tourists or a holiday resort, it is fully recommended to allow transferring data from digital camera to cd or flash drive and charge additionally for these services.
Share PC game license on your computers to reduce expenses
All companies, Internet Cafes, even home users are obliged by EULA (end user license agreements) to use only the licensed games or programs on their computers. This is not so big problem if you have small Internet Cafe with few client computers. But if your case is `bigger` Internet, so you need to buy 50 licenses in the same game, this is will be a huge expense for your business. Here comes License Key Management option that helps saving your money on purchasing license. License Key management service checks the network if there is a license key that is not used and transfer it to the client computer.
In this way you can offer the same game to all your client computers in Internet Cafe only with few licensed copies.
Allow multi-player games to increase your membership
Multi-playing is really popular and fashionable these days. Multi-player games can be played over the internet or in local networks. Teenagers and younger children mostly have computers at home and have ability to play these games over the net. But, it is much more interesting to play multi-player games with the friends at the same location. Allow multi-player games and customers will come to your cafe in groups.
In this way you can offer the same game to all your client computers in Internet Cafe only with few licensed copies.
Make your own city network of Internet Cafes
Internet Cafe software provides you the ability to network all Internet Cafes via the Internet and share member account database. With this option, member accounts, created in any networked Internet Café, can be used in all other Internet Cafes. Open few Internet Cafes in different city areas and sell pre-paid tickets everywhere (in Internet cafe, newsagents`, hotel receptions etc.)
Sell various items to increase your profit
Internet access and computer gaming are the basic services that can be sold in Internet cafes. Beside basic services add items common in coffee and small computer shops. While surfing the web or playing games people would like to drink a coffee or have a juice. Customers will also appreciate full service like ordering drinks without leaving their seats. Have DVDs and flash drives in your sale, so your customer can save downloaded files in your Internet cafe.
Internet Cafe software with it's own integrated Point Of Sale system is here to make your sale easy both for you and your customers.
The concept and name, Cybercafé, was invented at the beginning of 1994 by Ivan Pope. Having a duty to organize an Internet event for an arts weekend at the Institute of Contemporary Arts (ICA) in London, Pope wrote a special proposal giving the idea of a café with Internet access from the tables.
Cafe `Cyberia` started Internet cafe history. It was opened in London on September 1st, 1994. The founder of the first Internet cafe, Eva Pascoe, was working on her PhD at the time when she got the idea to connect sipping coffee at one of coffee shops near the City University of London and web surfing.
Buy Your License
No reinstallation. Keep all your configurations.

License is good forever. Free updates until next major release.

Technical support: Email, Phone, Online chat
Try it Free
Technical support to get setup fast and easy.

Learn the powerful management features.

Buy it when you are convinced we are the best.