Control user WiFi Internet access on cruise ships, vessels, ports, oil platforms, rural areas where Internet link may have periodic interruptions or high delays


Maritime WiFi service for cruise, shipping and yacht market
Nowadays, a fast and reliable WiFi signal is expected everywhere, even on the sea. Excellent WiFi is essential for any maritime vessel, cruise ship, yacht, or transport vessel.
Antamedia Enterprise WiFi system provides you with both advanced WiFi network control and a reliable connection with all the guests.
When a WiFi network is assembled and access points installed in a planned manner, our system will ensure excellent WiFi to the passengers and crew.
Our system can provide reliable WiFi management of the crew devices, set limits on the WiFi usage, and provide either free or paid subscription in order to carefully manage expenses.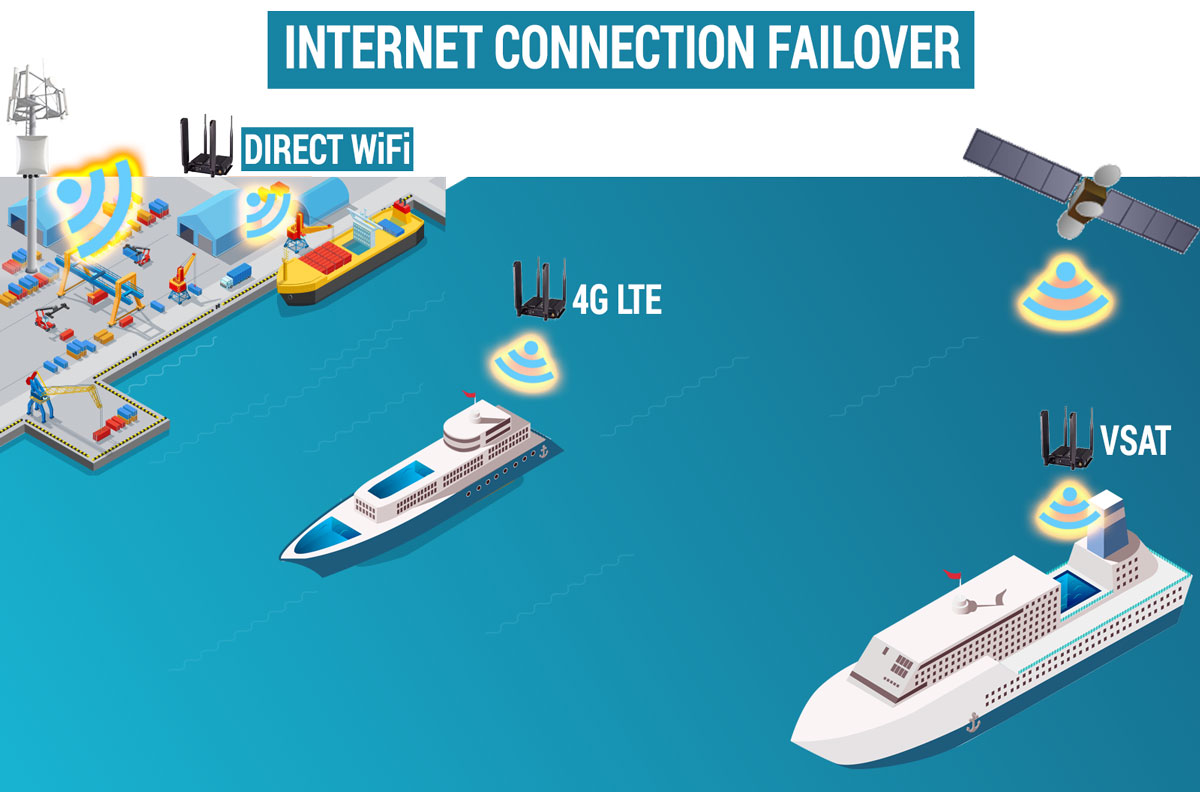 Sets limits like download/upload, quota, time, daily/monthly limits

Supports all vendors:Cradlepoint, Mikrotik, Unifi, Cisco…

Runs on your server or dedicated cloud environment

Costs much less than alternatives
Manages all your customers and all vessels / ships, from the same platform

Controls crew and passenger WiFi use of 4G LTE, VSAT

Engages users with video ads and special offers

Uses vouchers and credit cards for login and billing
How Maritime WiFi works ?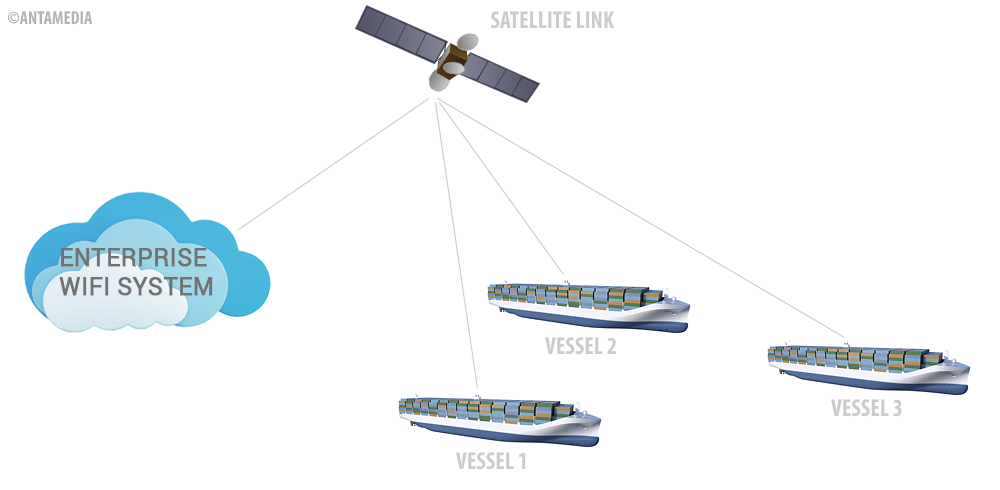 Antamedia platform integrates with WiFi hardware (APs, controllers) located on each ship and vessel, and controls WiFi usage. Using devices like Cradlepoint, ships and vessels can failover between VSAT, 4G/5G, and direct WiFi connection where available.
While docked, ports WiFi Internet connection can be used as the least expensive Internet source. After leaving the port, 4G/5G can be used within range. At the sea, the connection will failover to satellite.
Administrator can manage all crew and passenger accounts remotely, while the system automatically manages all connections, deducts used bandwidth and time, and takes care of the payments for WiFi plan upgrades.
New-gen software with radius APs/routers

Control smartphones, tablets, laptops

Manage bandwidth, download and upload

Runs in a dedicated server/VM or in cloud

Customize Splash pages for each ship/vessel

Collect customer satisfaction surveys
Create vouchers with custom Internet plans

Accept credit cards for WiFi plans

Automatic Emails for marketing

Social login: Facebook, Twitter, LinkedIn…

Auto-login users to increase ease of use
Tiered Internet plans with limits/pricing

Collect customer data for marketing

Get real-time statistics and usage reports

WiFi marketing with Video ads & emailing

Manage multiple ships/vessels/yachts

API Integration & Automation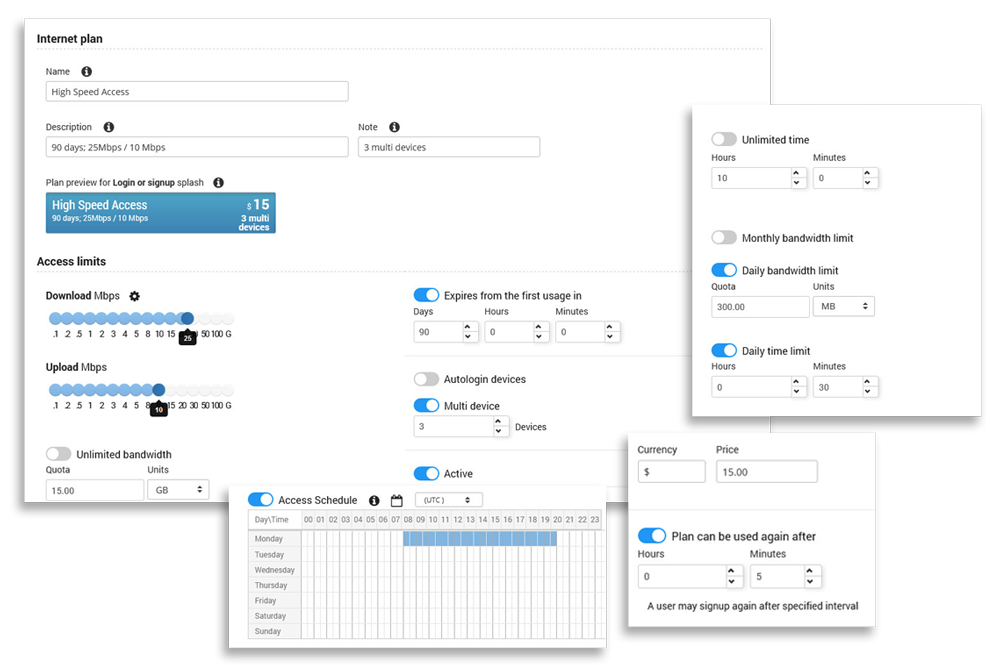 Guest Internet access will be limited by Internet plan (download/upload), time, quota, expiration time, number of devices that can be connected.
If a guest needs higher speed, you can offer paid access posting the Internet plan charges to the guest room.
Tiered plans may be configured to limit daily or monthly usage, while the crew can refill an account with a credit card or voucher.
In case of free access, the Internet can be allowed for a specific time or date and the user might need to wait a defined interval before getting a new slot.
Expensive satellite and 4G connections needs to be carefully managed at the sea or at the ports.
Our system can provide reliable WiFi management of the crew devices, set limits on the WiFi usage and provide either free or paid subscription in order to carefully manage expenses.
While at the sea, the system can grant defined Internet limits at specific prices that correlate to the satellite cost.
At the ports, the system will use 4G/5G to share the Internet to the vessel crew.
Monthly/Daily Bandwidth Limits
Easily configure monthly or daily usage for desired accounts.
Limitations can be applied in different ways:
• using the Internet plan
• configure each account individually
You can set total bandwidth traffic available for Internet usage on a monthly basis. When all monthly bandwidth is used, a user can purchase upgrade.
Additionally, you can configure available bandwidth for daily use or just limit the user session daily time.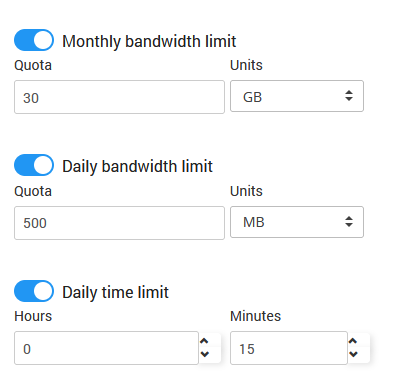 Centralized WiFi management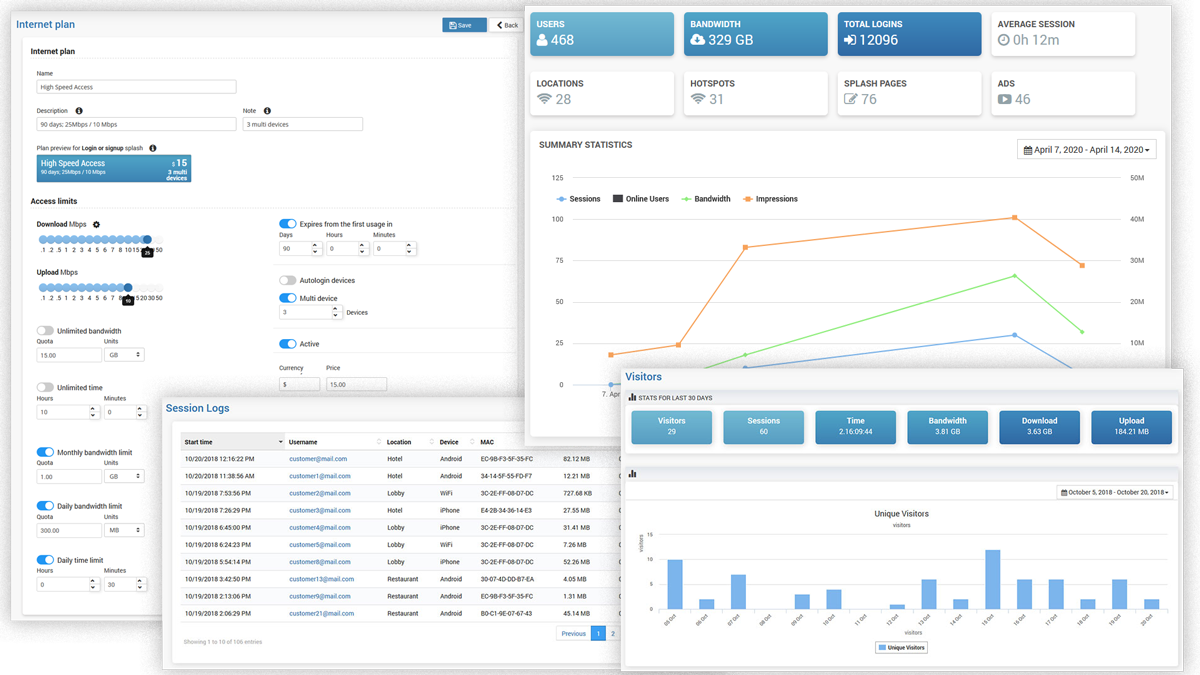 Antamedia Maritime WiFi system can be managed from any device, anywhere.
Our intuitive interface helps you configure users, wifi locations, splash pages, plans, access analytics or create new ads.
You may create sub-admins for desired locations with partial access privileges to the management portal.
User access tickets can be created and printed in bulk amounts with configurable Internet speeds.
APs can be easily replaced with a spare one in case of any hardware error by changing associated MAC address.