Take control over your Hotel WiFi
Antamedia Hotel WiFi solution helps you improve your WiFi and guest satisfaction. Create a free or paid Hotel Internet access, integrate with Hotel PMS software to automate guest login with room and name, enagage guests with advertisements, collect surveys and understand what you can do better to improve guest satisfaction.
Today's travelers expect excellent WiFi in every hotel. Take your WiFi to the next-level and improve quality of the Internet service, guest satisfaction and overall Hotel review rating.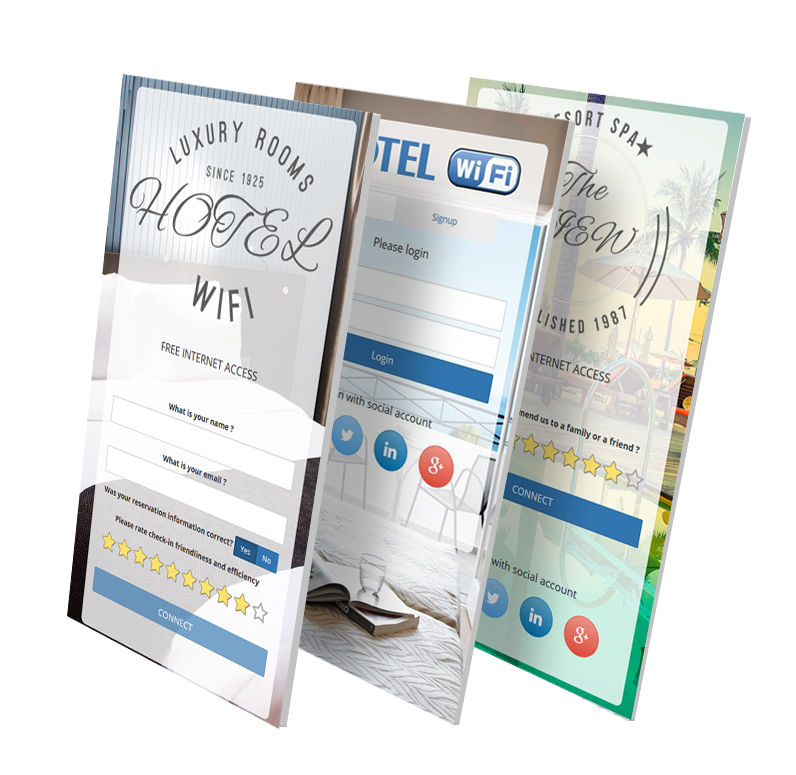 How Hotel WiFi Software Works: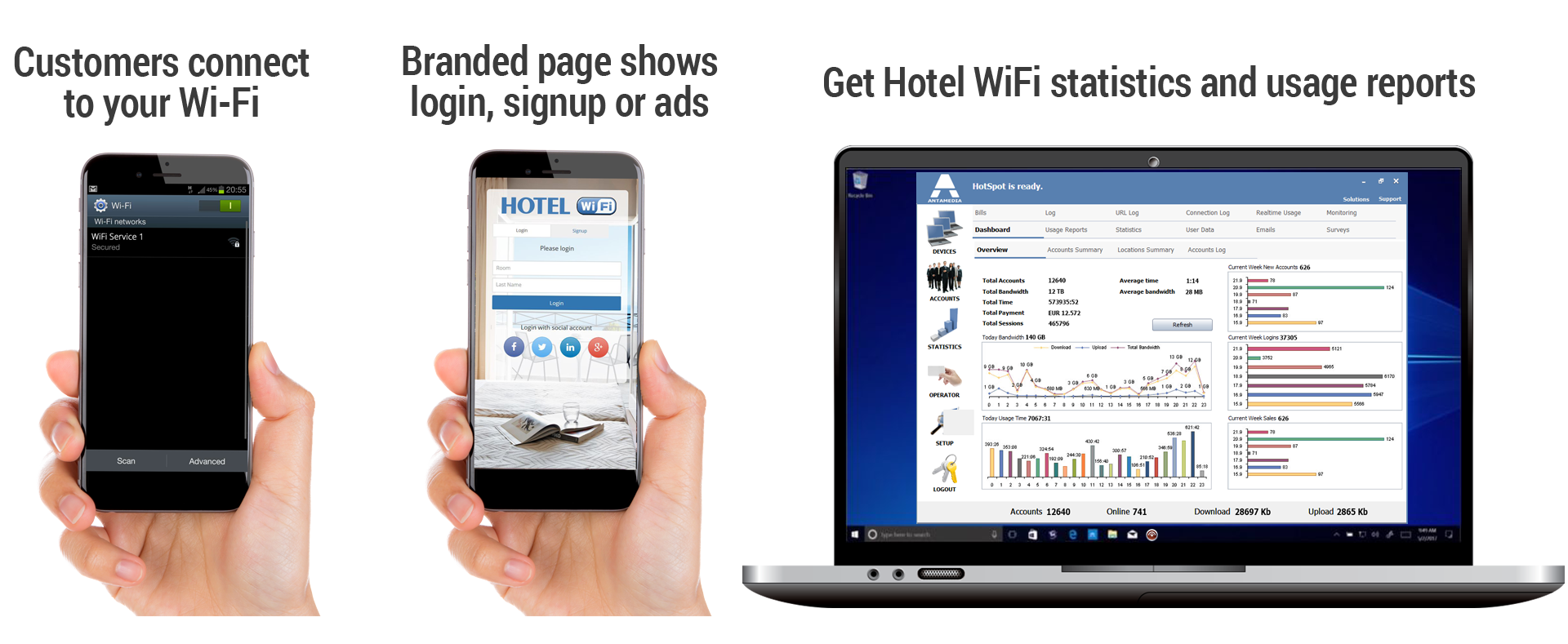 Upon accessing your hotspot, guest is automatically redirected to your self-branded login page. To get the Internet access, guest may login with an existing account or signup for your services: by paying with a credit card or PayPal, by charging the bill on the room number, or by enter a voucher ticket. Entire profit is 100% yours.
If you provide free WiFi service, a guest may sign-up for a free account, click a start button for anonymous access, enter a shared keyword provided on check-in. Antamedia Hotel WiFi software will control the duration, speed and bandwidth, and optionally collect your customers e-mail, name, address, for your safety and marketing activity.
Free WiFi is still King
What amenities are deciding factors when choosing your hotel?
While free Wi-Fi is a must for both business and leisure travelers, people on work trips seem to hold this amenity on a higher pedestal.
53% of guests also wish free Wi-Fi was a standard amenity across all hotels.

Easily control WiFi and wired Internet access
Antamedia HotSpot software helps you offer free or paid Hotel WiFi access, efficiently manage and control it:
• Easily create prepaid accounts or voucher tickets
• Post charges to the guest room using PMS interface
• Free access with daily limits on download, time, data
• Combine free trial with paid faster access
• Remote HotSpot operator for front-desk staff
• Require accepting terms of use before session
• Collect guest data (name, Email, address)
Set up Hospitality WiFi using Windows based computer, configure your branding, create extra profits.
No compromises.
Post Charges to the Guest Room – PMS
Integrate Hotel WiFi with your PMS system (Opera and 20+ other systems) and automate billing for your guests. Customer chooses username, password, price plan (like 7 days Internet) and confirms the identity with a room number and personal details. If successful, Internet is enabled and payment is added on provided room number, and customer will see this charge in your PMS.
System can be configured to provide to provide free access (no charge), to apply complimentary plan to member or loyalty guests, or provide list of available plans so user can choose and pay.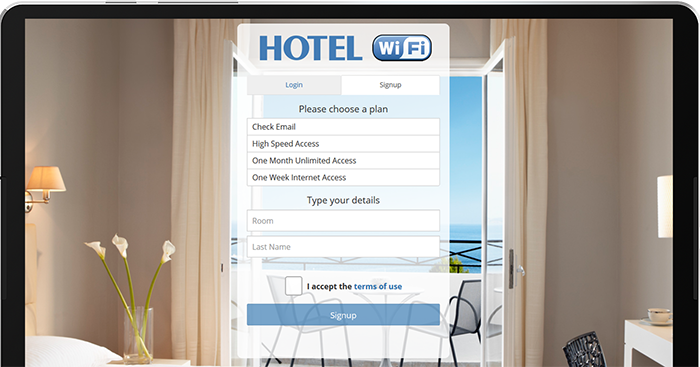 Supported Hotel PMS interfaces:
Oracle Opera PMS and Fidelio Suite8 PMS (IFC Part Number 5009-313)
Sabre SynXis Property Manager
iHotelligence Hotel Management Software

INN-Client Server System ATRIUM

INNfinity Hospitality Systems
Agilysys Visual One/rGuest Stay

Consolidated Resorts PMS Cornerstone
Generic XML interface can be used by any PMS software company to create interface with our software
Combine free Hotel WiFi with paid faster access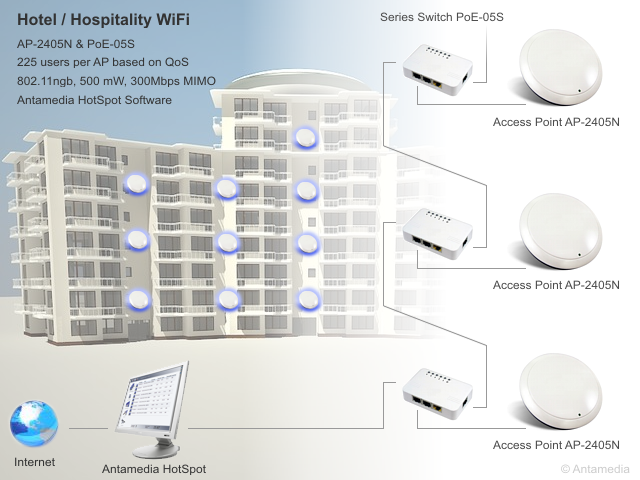 Hotel WiFi software helps you offer free trial Internet access and convert your customers into paid subscribers. Entire process is automated, and follows the rules you specify: duration of the free trial, number of logins per day, available bandwidth quota, download and upload rate, time of day when free access is available, and much more.
Once the customer is satisfied, he can sign-up for the higher level account without restrictions.
Ability to offer paid upgrade is very important, as business users or those needing video streaming will not be satisfied with your free-level service.
On contrary, users needing only simple services as browsing or Email access would appreciate a free offer, and be loyal to your main services.
Increase TripAdvisor Rank of your Hotel
Collect reviews from your guests and use it to increase hotel's TripAdvisor rank. Our system is designed to collect guest opinion when they are the most motivated to give positive review.
In addition, it prevents customer dissatisfaction by informing a manager of negative comments or complaints and gives a chance of converting guest experience while the guest is still on hotel grounds.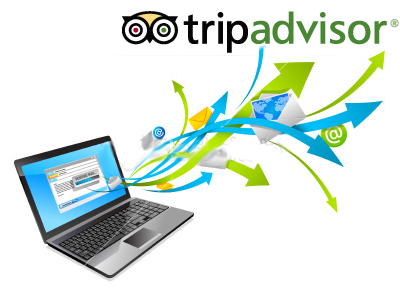 Limit speed to prevent bandwidth outage
Failing to set a bandwidth cap, leads to nonfunctional WiFi HotSpot. If data transfer is not controlled and limited, some customers may consume all your bandwidth, and leave other customers unable to connect or have decent browsing experience.
Antamedia HotSpot efficiently limits both download and upload rate for each customer connected to your network. But that's just a starting point. To gain full control over the customer connection, you can limit bandwidth quota (maximum data transfer), or set limits on a daily level. For example, each customer can get 1GB data transfer, but only 10 MB daily.
It takes care over your Hotel Internet WiFi, and helps you never lose a customer.
Track visited pages to comply with law
According to the anti-terrorism Pisanu Law and EU DIRECTIVE 2006/24/EC, each Internet Service Provider (in this case YOU), are required to store customer details, and to track Internet user activity by storing visited URLs into the log. Offering Free Hotel WiFi without tracking URLs and collecting customer data imposes you to a risk from illegal customer activity that is performed from your Internet connection.
Advanced features that help with Hotel WiFi management:
Prevent illegal customer activity and protect your business
Filter URLs with inappropriate content, like porn, racism, drugs
Block desired websites
Redirect websites to another URL (even your competition)
Hotel WiFi Premium
HotSpot Software – Premium Edition

Unlimited guests, unlimited vouchers, collect guest details

Controls connection time and speed for multiple guest devices

Control staff and guest WiFi on all devices

Can be upgraded to Enterprise edition and add-ons
Hotel WiFi Enterprise
HotSpot Software – Enterprise Edition

Remote HotSpot Operator for a front desk / reception

Hotspot Click – Image and Video Ads, Coupons, Surveys

Collect Guest Surveys to Increase Hotel TripAdvisor Rank

Download Hotel WiFi Free Trial for Windows PC
We'll help you configure everything
Technical support: Email, Phone, Online chat
No obligations, zero-risk free trial