Easily manage WiFi users, show video ads, sell vouchers through reseller network or bill with credit cards and mobile money
Easily manage WiFi users, show video ads, sell vouchers through reseller network or bill with credit cards and mobile money


ISP WiFi Software is a robust and cost-effective solution for Internet control, bandwidth limiting (daily, monthly), payment processing (vouchers and credit cards), marketing (video ads, surveys, emails), with powerful analytics.
Our ISP WiFi Solution supports Mikrotik routers and all other major hardware vendors and devices installed in your network.
It can be used to deliver location-based video commercials, automatically send special offers, collect customer satisfaction surveys, or send Email marketing campaigns.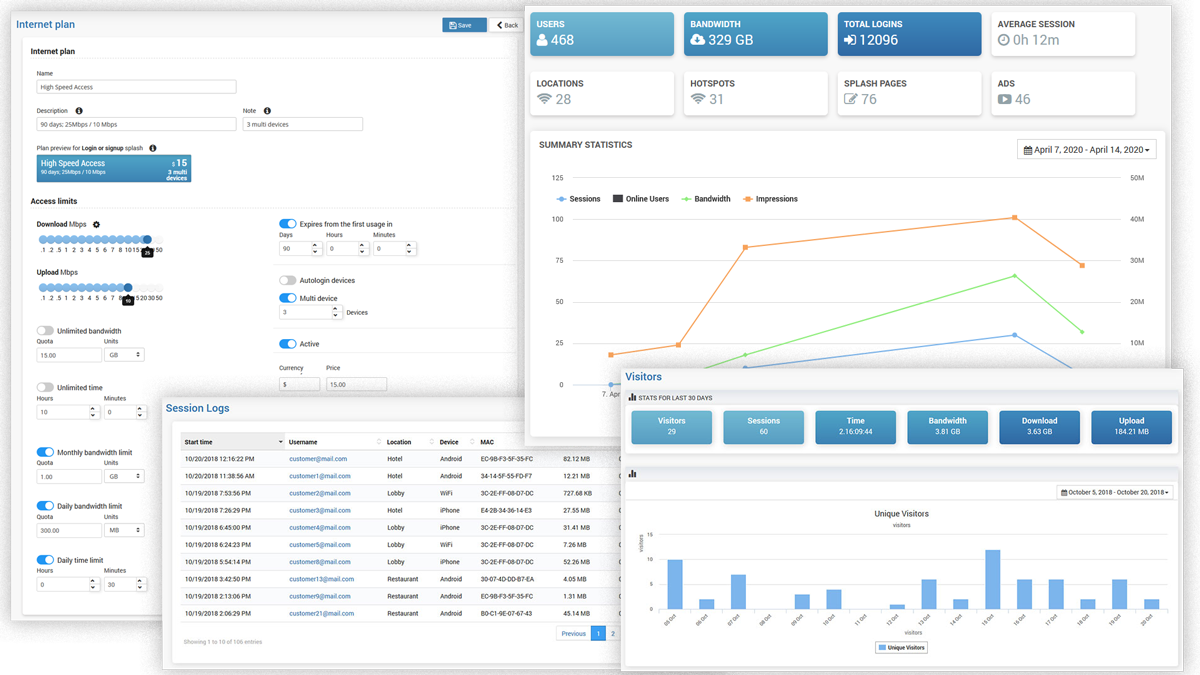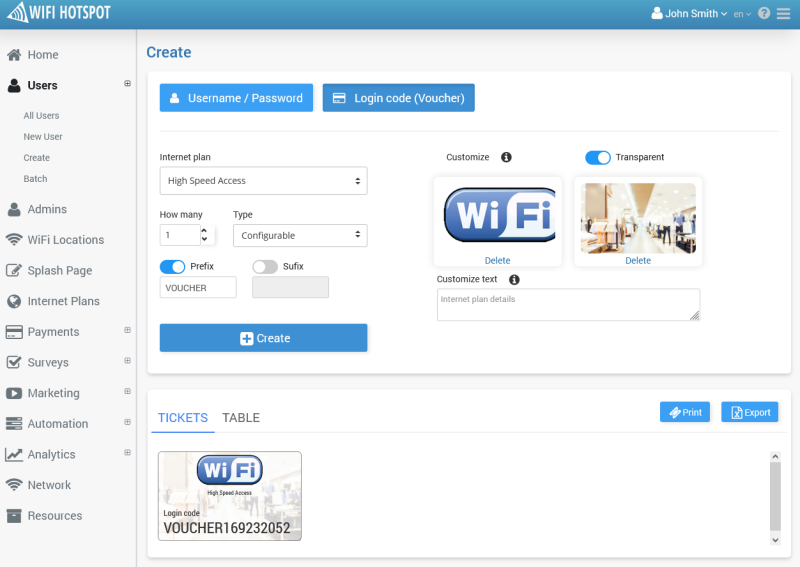 User accounts can be created as
User / Pass– Customer logs in with a username and password. Account can be updated later with customer profile data, like name, email, phone, address as well as custom fields. Selected plan limits are applied to a newly generated account like download, upload, time, bandwidth quota, day time of login, number of devices allowed
Login code / Voucher – This account type is represented with the alphanumeric code instead of username and password. It contains all other features like user/pass account. It can be refilled using additional account or can be used as a method for signup, where customer types the code and chooses the username and password.
An Administrator or employee is able to modify any of the settings before generating accounts.
Sell vouchers with resellers that earn commission
WiFi Tickets App helps you print tickets for users to connect to your WiFi network. A voucher is printed by clicking the Internet plan on the screen. Multiple vouchers can be easily created or last ticket reprinted when needed.

You can create Reseller accounts, configure their commissions (like 15%) and have them sell vouchers at different selling points, like news kiosk or cafes or receptions.
Hotels and airports may easily scan passport and create a ticket.WiFi Tickets App is available for selected Android printers and Android phones.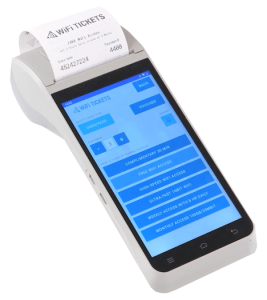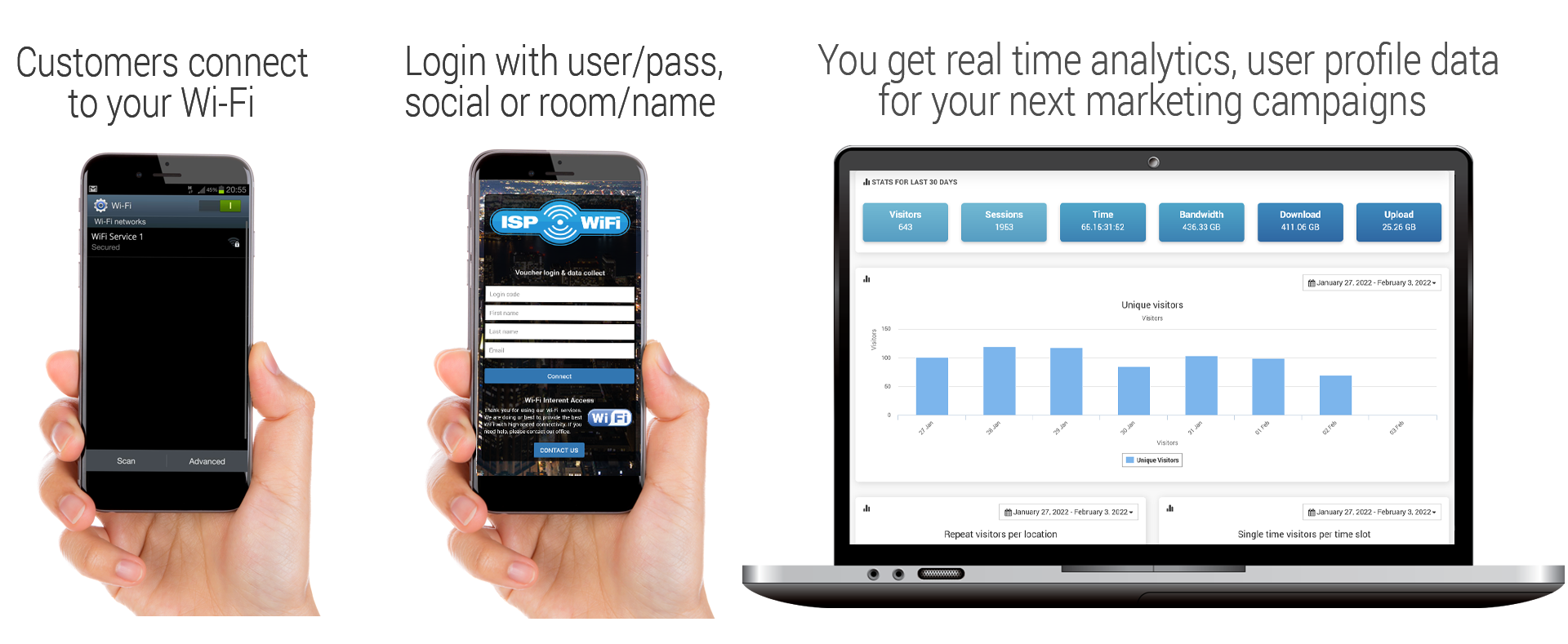 • Run ISP system on your server or Cloud VM. No appliances.
• Scalable from single AP to metropolitan networks.
• Includes billing, marketing, reseller and customer portal
• Can be interfaced with external systems
• Custom development service is available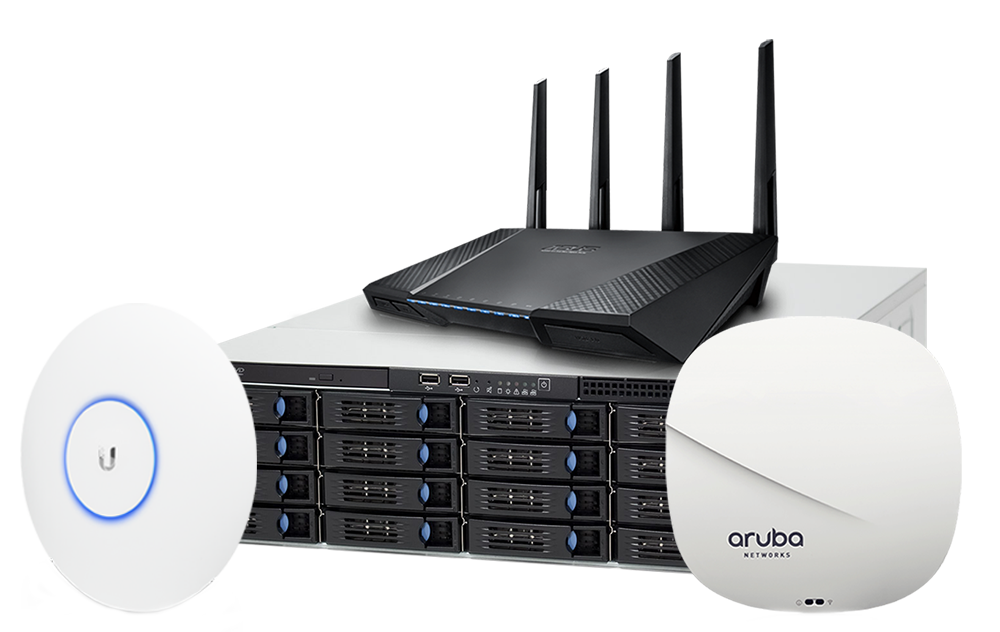 Powerful API & Automation
Integrate Antamedia's ISP Billing with third-party software to control and manage accounts, get statistics and price plans.
API processes requests, deliver data and facilitates connectivity between devices and programs to ensure the seamless functioning of various software components.
Automation helps you create tasks that are automatically executed when defined events happen, like connect, disconnect, inactivity, birthday.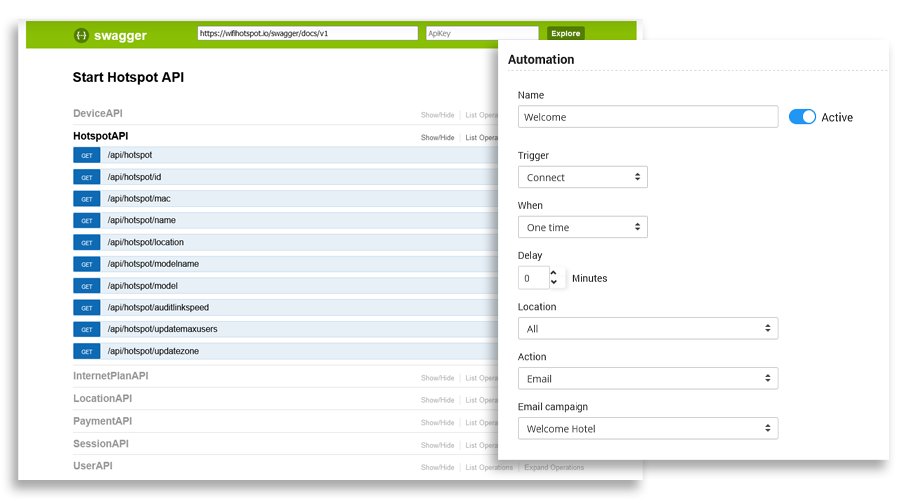 ISP WiFi Software Features
Control smartphones, tablets, laptops, computers

Manage bandwidth, download and upload

User roaming between locations

Hotel PMS Integration: Opera, IDS, Protel …

Autologin – automatic reconnection to WiFi

Multiple devices – setup number of devices/user

URL redirects to desired website or user profile

Splash pages with multiple login methods

Social login: Facebook,Twitter,LinkedIn,Google

Verification via SMS and Email

Targeted video campaigns by age / gender
Session Logs with data/time usage

Marketing Campaign reports

Accept credit cards, 50+ payment gateways

Mobile payments for Africa countries

Voucher-based signup with optional billing

Data export via CSV and PDF

Identify customers based on devices details

Get more reviews/feedback with TripAdvisor

Allow free usage and force users to buy upgrade

Prevent free users relogin before specified time

Identify customers based on devices details

Optional branded HotspotOS for selected APs

High-performance low-cost OEM APs available
E-Mail marketing / Welcome Email

Contact permissions (GDPR compliance)

Custom multilanguage terms of use

Surveys for splash pages and Emails

Aggregated Reports (summarized stats)

Technology Reports (device/browser/OS)

Network Usage Reports (bandwidth consumed)

Visitor Reports (new/repeating)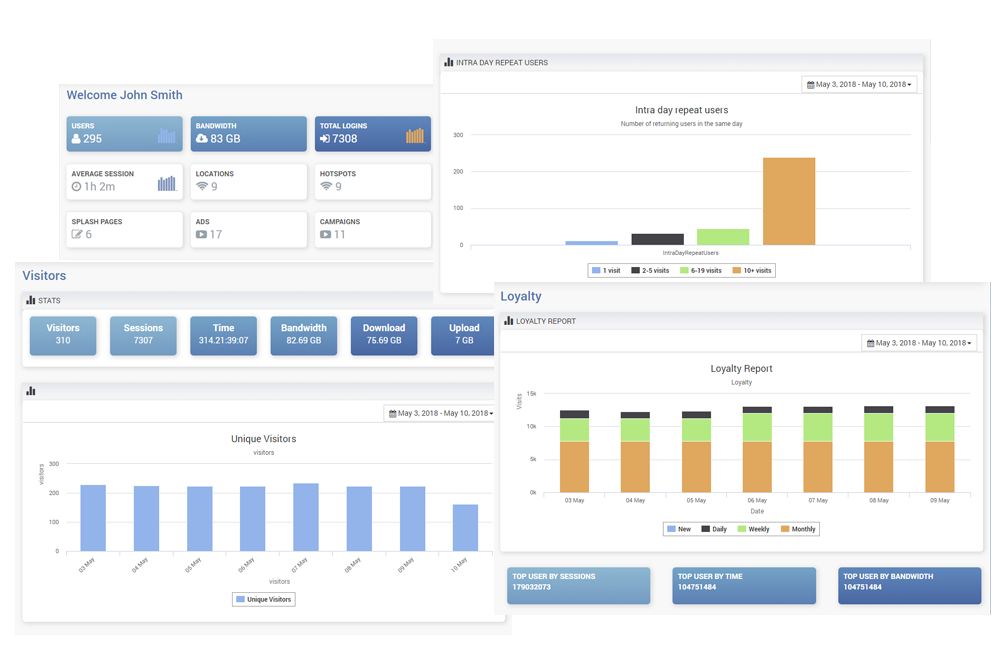 Detailed analytics will tell you who your customers really are. Get demographics like age, gender, location, and extended stats like loyalty.
Visitor stats are split into multiple reports, which include loyalty, top users, timeslots, repeating and first-time visitors, gender and age breakdowns.
Collected surveys will give you real-time information about good and bad – that should be taken care of before it escalates.
With a date range filter, you can profile your visitors with ease, learn usage habits and prepare workable marketing activities.