WIFI HOTSPOT FOR WINDOWS 7
Manage your Hotspot WiFi using Windows 7 PC with lifetime license and support
WIFI HOTSPOT FOR WINDOWS 7
Manage your Hotspot WiFi using Windows 7 PC with lifetime license and support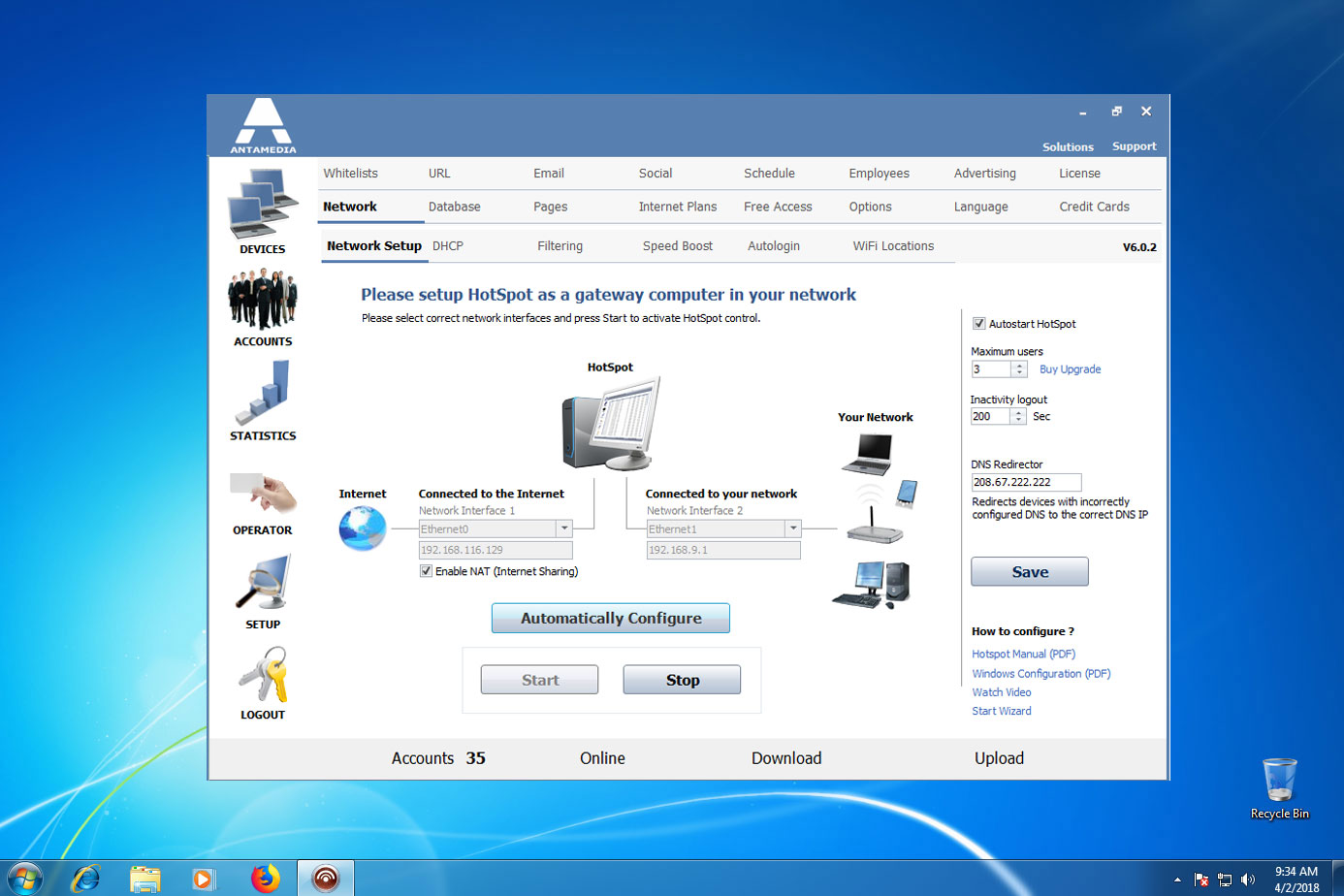 WiFi HotSpot for Windows 7
Antamedia WiFi HotSpot is the leading Hotspot solution for Windows 7 PC. It act as a gateway for all client devices and access points / WiFi routers on the local network. Manage access for smart phones, tablets, laptops, and computers straight from the user-friendly, feature-rich interface.
WiFi HotSpot should be installed on Windows 7 PC with two PCI network cards.
Hotspot installer is universal and you can install HotSpot software on Windows 7 PC or latest Windows 10 PC.
Control smartphones, tablets, laptops

Manage bandwidth, download and upload

No network changes, use your own WiFi hardware

Customize login pages for WiFi locations

Collect customer satisfaction surveys

Provide coupons for completed surveys

Improve rank on TripAdvisor, Yelp etc

API: Integrate with third-party software

Website, MAC and IP whitelist

Social login: Facebook,Twitter,LinkedIn,Google,VK

Collect customer data for marketing
More than 50 customizable HotSpot themes

Create users or tickets with custom Internet plans

Hotel PMS Interface to Opera, IDS, and 20+ more

Accept credit cards & keep 100% profits

Web self-care Customer Portal

Access Point & Device Monitoring

Automatic Emails for marketing

Speed boost for off-peak hours

Print your own WiFi voucher tickets

Internet Sharing (NAT) for all devices

Auto-login users to increase ease of use
URL filtering and logging of visited websites

Internet plans per location

Decrease speed for expired users

Language editor with auto-language selection

Set employee's account access level

Get real-time statistics and usage reports

Watch online activity per customer

Block websites with 2.5M domain web filter

Manage multiple hotspot locations

Active Directory Integration
Creating Your Hotspot is Easy
You need a Windows 7 PC with two PCI network cards.
Your PC will be a gateway for your network that connects all customer devices.
Software supports all access points so you can use it with existing network.
When guest connects to Wi-Fi, your self-branded login page will appear asking guest to sign-in or pay before getting the Internet access, or to automatically login with remaining quota and time.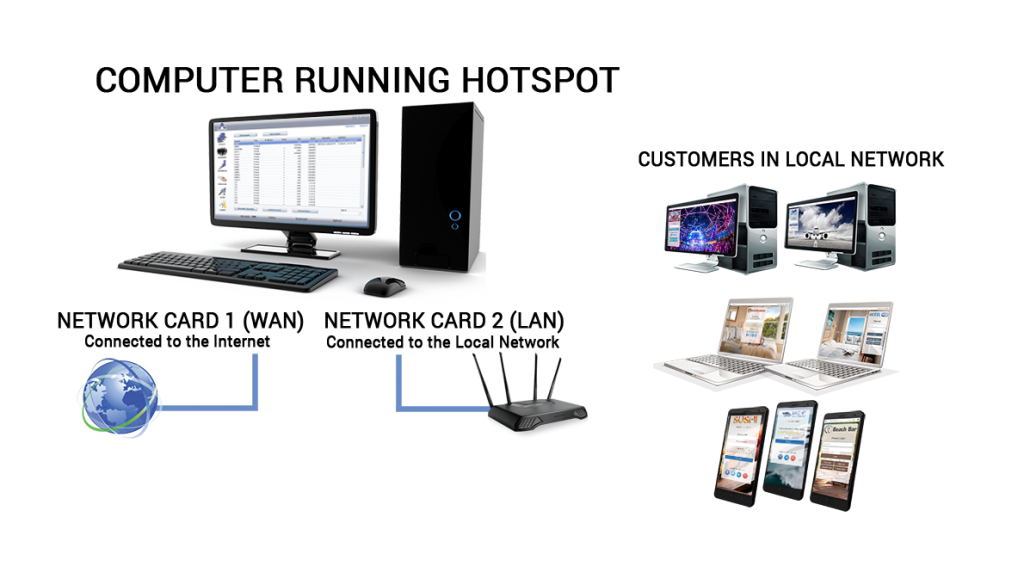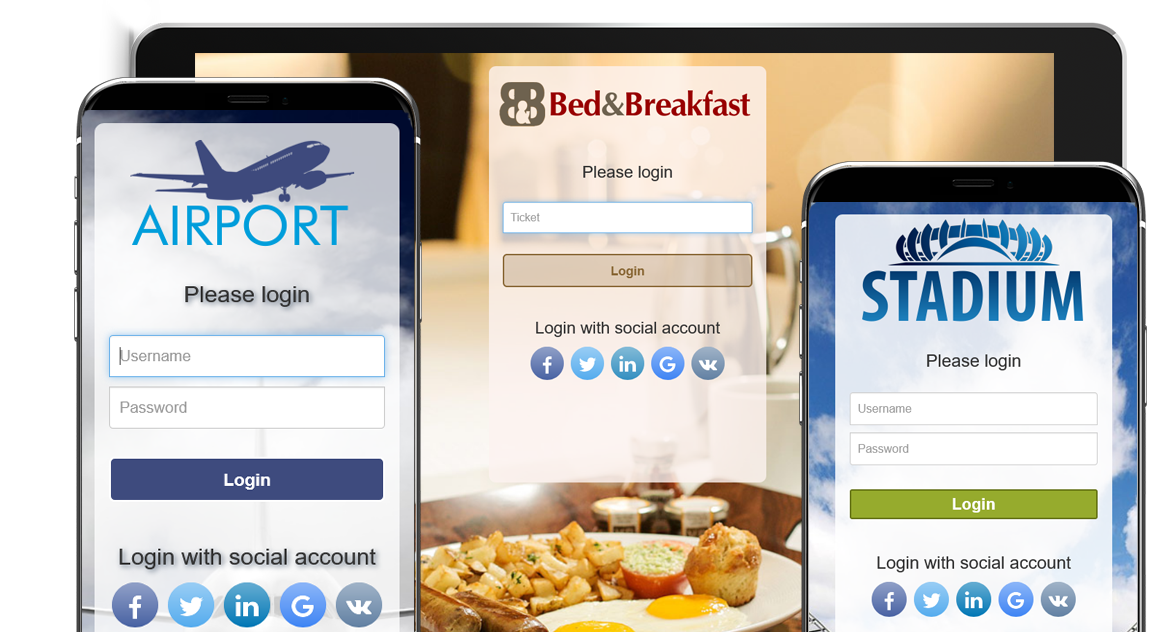 Antamedia HotSpot Software is the most feature-rich guest WiFi management software in the industry. It turns your PC into WiFi Hotspot controller that helps you limit user Internet speed and equally share your connection to all customers and engage them with ads, surveys and emails.
Windows 7 is a great choice for a small to medium hotspots. Build a free WiFi using social login, shared keywords, SMS or Email verification, or offer a faster paid WiFi access with a credit card or PayPal payments, pre-printed tickets, Hotel PMS integration with room/name, and keep 100% profit.
Developed and supported by industry professionals, Windows 7 hotspot software comes with a lifetime license and free support.