DOWNLOAD HOTSPOT

Try all software features free
No credit card required during trial
Unlimited trial with hourly restarts

Your file download has started.
If your download did not start, please click the download button to initiate again.


Create your own free or paid WiFi HotSpot service using a PC and our Hotspot software. Customers are redirected to the login screen to sign-in or sign-up and pay for use.
We have a number of different software prices to serve your business needs. Please view our software pricing page to find which HotSpot software edition suits you best.
Newsletter
Receive tips and valuable product information. Get a software discounts.
Your information is NEVER shared !
Get your branded HotSpot!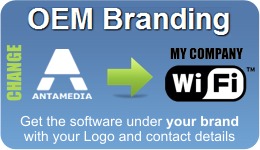 What our customers are saying
"Your software and the whole programme is wonderfull it is exactly what I wanted and it saves my business time and money and myself too. I 'm not worrying anything as soon as everything is perfectly working . I know and trust your whole software that the whole job will be done from the server. Since the time I bought your spftware I'm generally very satisfied with it and you must be proud of having such a programme."
"I am 100% satisfied with your program !!!"
"We find your software absolutely genious. Congratulations!"
"I am amazed with the speed of your support and how simple everything about this piece of software is. We are very pleased with the program and support we get from you. Keep up the good work!"
"Thank you for your GREAT support and fast response. I will definately promote not only your software but your company also!"