HotSpot Software That is Leading the Industry
HotSpot software lets you manage your own WiFi with any PC. Redirect users to free login or bill for access. Control one router or a whole city WiFi.
First Choice of Professionals
Control Laptops, Tablets, Smartphones
Easily configure the number of free or paid user devices that can access the Internet. Your license sets maximum users, but you can decrease the number to save bandwidth and resources. Demo controls 3 simultaneous users, Lite 20 users, while higher editions control unlimited users.
No Client Software Installation
Control wired and wireless computers, smartphones and tablets without any client software installation. Force customers to sign-in or pay on the login screen. HotSpot software works with any device operating system and Internet browser.
Keep 100% of Your Profit
Order a lifetime license – there is no monthly billing. Install software on your own server and get in control over you WiFi. Offer free WiFi or collect payment with one of the 70+ payment gateways: we do not charge a percentage for accepting credit cards.
Use Your Own WiFi Hardware
If you already own access points, routers and other network equipment, there is no need to change it. Our software works as a gateway with any hardware. You just have to route all devices through hotspot server running our software.
Customize Login Pages for WiFi Locations
Display different login and signup pages in your WiFi locations. Customize and brand pages with logo, colors, theme. Provide free HotSpot service in the lobby and charge Internet in the rooms. Create retailer pages in shopping malls or Facebook like for restaurants and cafes.
HotSpot V5 pre-release is available. Contact us for a download link.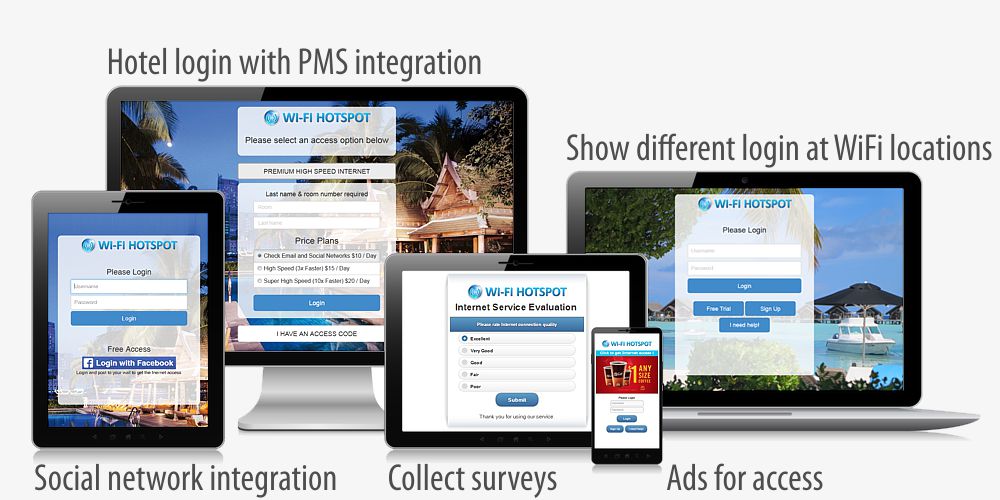 Create a Free Hotspot
Allow users login with a keyword or collect user data. Grant Internet access to those who like your page or post to their Facebook wall. Configure software hotspot to limit free access time, bandwidth, daytime, daily & monthly logins, expiration and interval between repeated sessions.
Create Flexible User Accounts
Create tickets, free or user/pass accounts and assign them an Internet plan. Configure properties like download and upload limit, available time and bandwidth quota, daily or monthly limits for time, quota and number of logins, expiration date, multilogin, autologin, inactivity logout, allowed daytime for login, and many more options.
Customer Portal
Web self-care application helps customers check their account status, download and upload limits, remaining bandwidth and time, expiration, last usage date. User may update personal information, upgrade account plan or boost bandwidth for specified time interval and automatically add charges to the bill. It includes usage report that can be filtered by a desired date range.
Setup Wizard & Internet Sharing (NAT)
Easily configures most important options. Wizard will help you share your Internet connection using HotSpot NAT feature, instructs you how to configure the computers in your network, personalizes your HotSpot so you can start providing the service immediately.
Accept Credit Cards
If you wish to charge for Hot spot Internet access, your customers can pay with a credit card. The secure automated process lets you accept payment using any of the 70+ major payment gateways including PayPal. Credit Card Payment Module can be purchased for any edition.

Manage Your WiFi with Hotspot Software
Get Real-time Statistics and Usage Reports
Know all your hotspots statistics and usage including who is using it, how long, and what they are doing. Easily check time usage, bandwidth, logins and sale reports with included graphs, or find out the account download, the number of logins per day, the top customers by time usage etc.
URL Filtering and Logging of Visited Websites
Create logs of URL addresses that customers visit. Anti-terrorism laws require storing customer details and visited URLs from any Internet service provider. HotSpot logs customer username, IP, MAC, date and time, and URL address, so you can be sure you're fully compliant with EU DIRECTIVE 2006/24/EC and Pisanu Law in Italy.
Block Websites with 2.5M Domain Web Filter
Web Filter includes 2.5 million domains sorted in over 90 categories. It helps you easily block or redirect unwanted websites from being accessed on your hotspot, based on predefined categories like adult, drugs, weapons, gambling, phishing, violence, virus infected etc.
Manage Multiple Hotspot Locations
Connects all your hotspots in one network and use the same database. Your customers are able to use remaining account time and bandwidth in any of the Hotspot Wifi locations. For example, a large resort can provide cable connection in every room and install several access points in restaurants, a lobby, by the pool etc.
Website, MAC and IP Whitelist
Allow browsing of your company website without authentication. Grant Internet access to selected devices (identified by MAC or IP) to pass-through the Hot Spot software without authentication. Outside of this "walled-garden" users will have to login to continue.
API: Integrate HotSpot with third-party software
Easily generate accounts, get a list of price plans, and perform various other actions from your own or third-party software. Integration is done as a HTTP GET query and XML response which offer very short integration time.
Engage WiFi users on smartphones, tablets and laptops
Display image and video ads on your Wi-Fi HotSpot pages. Offer free Wi-Fi access in exchange for ad watching. Display coupons on the welcome page in exchange for customer name and E-mail. Create surveys and get answers.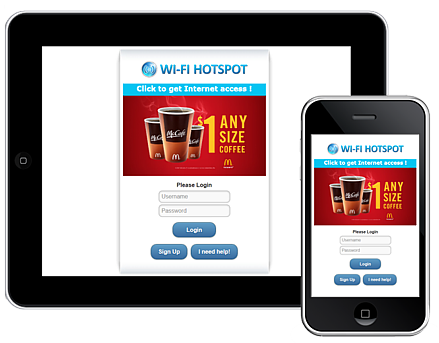 Engage Your WiFi Customers
HotSpot Login with Facebook
Grant Internet access to Facebook users that Likes your page, or ask a user to post a predefined message to the wall. All collected names and Emails are added to the HotSpot Email & Data report.
E-mail notifications to keep in contact with customers
Set-up software to send e-mail messages to your customers to remind them about the account expiration, a payment receipt, a newsletter or service maintenance. HotSpot includes default E-mail templates which you can edit or create new ones
Set Your Employee's Account Access

Language Editor

Active Directory Integration

Client Isolation

Auto-login users to increase ease of use
Fully optimized for satellite installations

Manage all your hotspots in one database

Stop customers from sharing accounts

Allow re-login if IP address changes

Manage traffic with IP and Port Filtering
Secure Login

Blacklist devices by their MAC address

Prevent login hacking

Time out inactive customers sessions

and much more features …

Trusted by Fortune 500
HotSpot is implemented in many top companies worldwide. It's feature-rich, scalable, hardware independent and it easily adapts to any WiFi management requirement.
10 Years Active Development
We're one of the pioneers in WiFi management industry. From releasing on Jan 1st 2006, we have been improving and perfecting Hotspot to match your needs in this fast changing industry.
Easy, Powerful, and Reliable
Our software was built with your needs and concerns in mind. It easily scale from a little shop to a major hotel chain with the same simple interface.
Who is Using HotSpot Software

Wi-Fi HotSpot Networks
Scalable from 1 room to 1 city, our software helps you easily start and grow. Maintain customer accounts, accept credit card payments with 100% of profits, store billing data, statistics and usage reports, all within a single application. Build your WiFi and wired network with any hardware you already own.

ISP, WISP, Telecom
Internet service providers may easily control Internet use, create complex price plans, bill customers through 70+ reputable payment gateways, maintain customer accounts and get robust reports on billing, usage, bandwidth, URL logs. It supports wired and wireless connections and it's hardware independent.

Hotel WiFi, Resort, Hospitality
Comply with anti-terrorism laws by recording every customer session time, IP, MAC, and URLs visited. Offer free Internet, paid, or both, our software takes care of customer Internet use through WiFi, room cable, mobile phones. Additional Operator interface helps reception staff easily generate new tickets.

Restaurant, Cafe, Retail
Increase your revenue and customer loyalty by offering free Internet, offer Hi-Speed access for larger orders, or VIP Internet access for regular customers. Software automatically stores customer details and visited URLs and fully comply with anti-terrorism Pisanu Law and EU DIRECTIVE 2006/24/EC.

University, School, Library
Educational institutions grants students and visitors limited access, usually monthly renewable and with daily limitations. Block access to adult websites, integrate with Active Directory, or configure Hotspot software to limit bandwidth per user, track usage logs and get real-time statistics.

Companies, Government
Reduce bandwidth requirements, log visited URLs, prevent personal Internet use during working hours by limiting access to YouTube, Facebook, and other websites you define. Offer secure login and optionally force visitors to enter personal data before granting Internet access.

Cruise Ship, Marina, Park
Efficient control over the expensive satellite broadband and sharing to the users over WiFi access points. Prevent excessive downloads, bill by the data transferred, offer free trials or create different account levels with optional limitations like max daily transfer, time or number of logins.

Airport, Transport, Outdoor
Provide HotSpot WiFi connectivity for people on the move. Help them do the business remotely, handle reservation systems, check weather forecasts, manage rentals, stay in touch with home security.