Turn any computer into a self-service Kiosk.
Kiosk software securely displays your website or application and reduces maintenance time.
Ultimate Kiosk Software Solution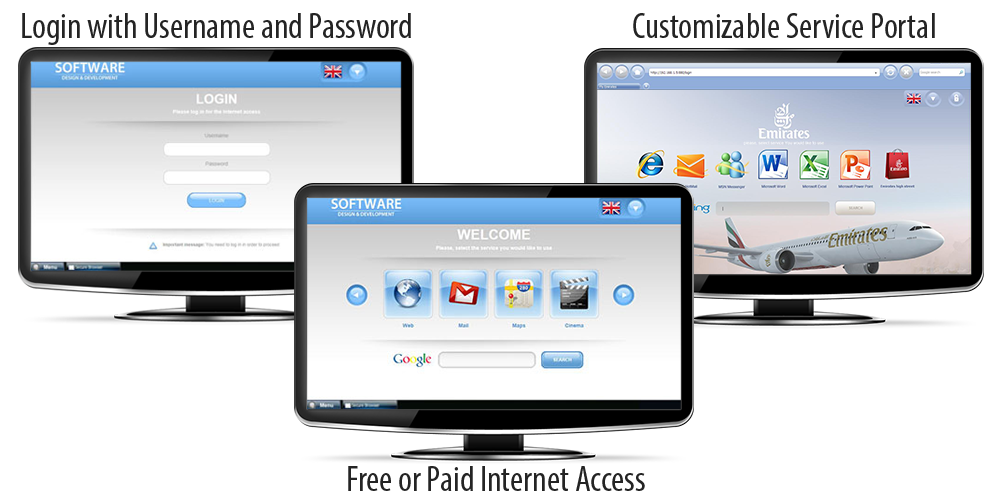 Protect Completely Your Computers

Customization and Self-Branding
Secure Browser Skins
Customizable browser look and feel. Change color to blue, black, green, brown, select large browser buttons for touch-screen or smaller buttons to save space, show or hide URL address bar, search engine, virtual keyboard, close, restore, minimize buttons, turn on animation on the browser background, run browser full-screen.
Customize Start Page
Make a great strong first impression with a start page that match the Kiosk purpose. Show a website landing page, open multiple tabs with their own custom URLs, or choose one of the predefined white-label start pages – airport, hotel, retail, beach, free use, kiosk login, pay and use.
Convert your public computer into self – service Kiosk
Antamedia Kiosk software locks down your public computer or kiosk, helping you securely display your website or application.
It prevents hacking and downtime by restricting access to the system, desktop, drives, folders and programs based on your settings.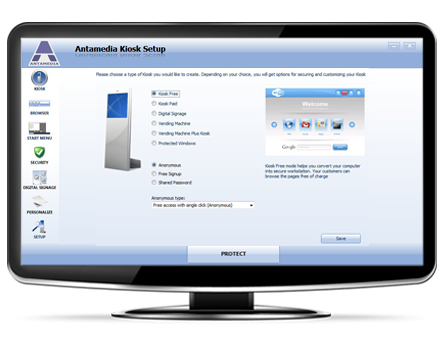 Self-Service Kiosk Configuration
Configure Internet Explorer Settings
If you choose Internet Explorer over integrated Secure Browser, you will still have many configurable options to maintain good system stability and minimize ability for exploits. For example disable Open File, browser context menu, changes of security levels, etc.
Blocks Applications and Program Options

Secure Browser

Protect Customer Privacy

Web Filter

Accepts credit cards payments
Tabbed Secure Browser

Customizable Themes

Customize Start Page

Customize Start Page

Self Branding
Digital Signage

Multilanguage Support

Transfer files to your Kiosks

Virtual Keyboard

and much more features …
Full Control over YOUR Kiosk Computers
Kiosk software runs on a standalone computer. If you are looking for multi-kiosk deployment, please check-out samples and contact us with your requirements for a custom solution. Kiosk software can run on any Windows PC – from Windows 7 up to Windows 10.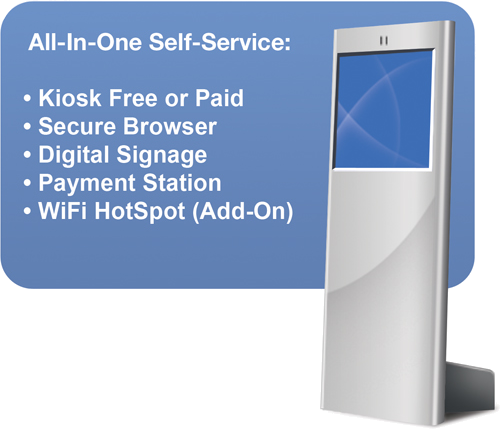 Kiosk Software Network Topology Examples
                                         Please note, Kiosk software can not be used on computer that works as domain or with Microsoft account. 
Increase your profit
Up to a 33% increase in revenue. At the same time 70% of customers using a kiosk instead of live help. With a a 35% reduction in customer wait and transaction time.
Easy, Powerful and Reliable
Kiosk software is created based on your requirements. To provide known Windows environment for end users with complete control of computer from your side. It easily scale from a standalone kiosk to a major Kiosk Chain with the same simple interface.
Constant Development
Kiosk software is complex but simple for use application. It provide basic control of Free access over Kiosk computers but can also be used for a control of computers based on paid access using Credit Card module or Coin/Bill Acceptors. Depending from your needs.
Who is Using Kiosk Software

Check-in & Reservation
Minimize staffing requirements and automate common tasks with applications. Popular uses are for airport and hotel check-in, concerts and fitness clubs, hospitality and sports events. Self-service reservations are popular for restaurant tables, golf course, spa centers where customer privacy matters.

In-Store Product Information
Provide accurate product information, product ordering and guided selling to increase sales revenue. Show product comparison, how-to, and help customer easily find the product in your store. Accurate product information reduce returns and increases chance for additional accessory orders.

Internet Kiosk
Internet kiosks offer high speed Internet access, Email sending, Office software, PC and online gaming, entertainment features. Antamedia Kiosk software helps you easily implement free or pay for use kiosks, and configure applications available for customer use.

WiFi HotSpot Kiosk
Expand service around your kiosk by installing Antamedia HotSpot and an access point. WiFi devices such as tablets, laptops, smart phones can utilize your services free or for a fee. Bill for Internet use by time, data transfer and offer different price plans for returning customers.

Pay Station
Self-service ticket dispenser helps you automate selling of the prepaid Internet tickets. It runs as a standalone service, or as an integrated part of the Kiosk. It collects bill, coin, credit card and PayPal customer payments and creates tickets which can be used on all kiosks or hotspots in your network.

Digital Signage
Engages customers and arouses interest in your products and services. Show retail advertizing, consumer information, travel and weather updates by combining videos, images, webpages, flash animations. Unlike print materials, changes can be made in a minute with no additional cost.

Loyalty programs
Help customer check their points or account balance. Show targeted per-customer special offers on kiosk. Implement NFC contactless smart cards that can be used as a payment device, loyalty card or entrance card. Antamedia Kiosk software and loyalty solution can fit into your project.

Queuing & Guidance
Manage large number of customers with small number of service representatives. Integrate with your database to provide representative availability, remote VoIP communication, and guidance. Deployments range from customer service, waiting rooms, government services to business incubators.

Custom Development
We can assist you or develop an entirely new theme for your business, interface your application with the Kiosk, integrate with your Hotel, Resort, Airline, Hospitality PMS system, or develop new software that will run on top of the secure Kiosk shell. Please contact us for more details.
Featured Customers

Try it Free
Free support to get setup fast and easy.

Learn the powerful management features.

Buy it when you are convinced we are the best.
No credit card or E-mail required
Buy Your License
No reinstallation. Keep all your configurations.

License is good forever. Free updates included until next major release.

Free technical support: Email, Phone, Online chat