Ultimate Kiosk Software Solution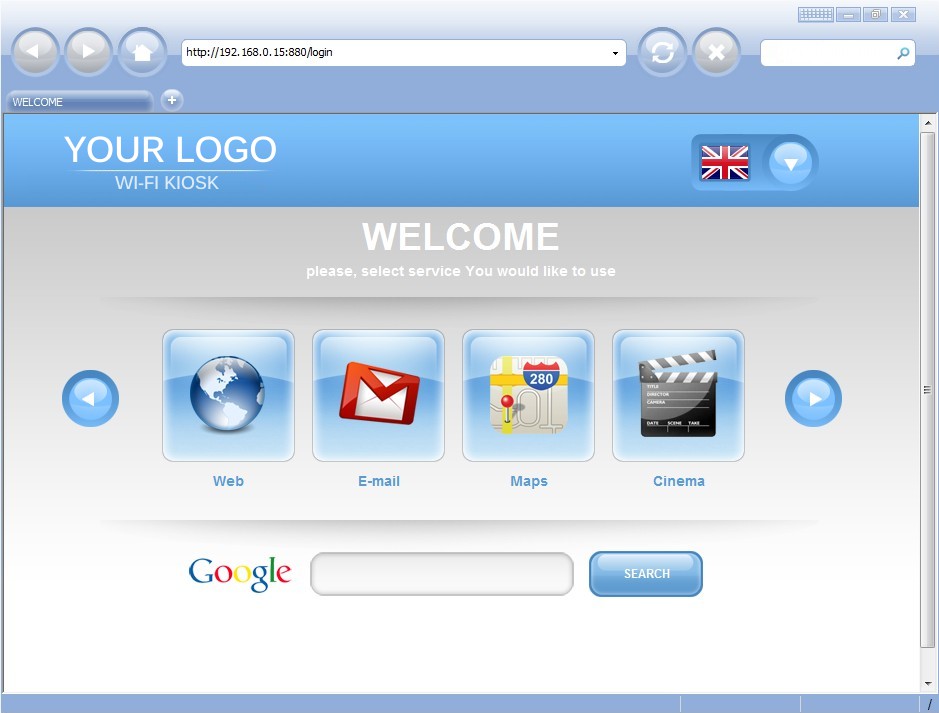 Internet Kiosk software converts computer into self-service kiosk.
It prevents hacking and downtime, blocks the system keys like Ctrl-Alt-Del, restricts access to the system, desktop, drives, folders and programs.
You can use it to securely display your website or application, show marketing messages and advertisements, bill for Internet use, games or office applications, sell tickets for WiFi HotSpot around your kiosk, and much more.

Lock down your kiosk or public computer
Kiosk software replaces system shell and blocks access to the Windows Explorer, drives, desktop and taskbar. It prevents access to the Windows system files, standard browser menus and prevents hacking and downtime.
Blocks System Keys
Blocks system keys like Ctrl-Alt-Del, Windows key, Ctrl-Esc and other keys that might compromise security. Compatible with Windows 7, Windows 8 and Windows 10 32bit and 64bit.
Runs in Limited Account
Creates, configures and runs under standard (limited) Windows user account for maximum protection. This additional security level prevents user to delete any system files that are required for the computer to work.
Hides System Drives
Hides and/or restricts access to specified drives to avoid anything getting deleted or tampered with. You can leave one drive visible where customers could save files, or you can show all drives but prevent user from saving or opening anything from these drives.
Blocks Applications and Program Options
Blocks specified application executable names and program options within applications. You can disable access to application options like Open, Save as, Properties. The same option can be used to exclude application from automatic closing on customer logout.
Folder Access Rights
Defines file and folder access rights to keep your computers safe. Configure desired access rights for each folder in your system: full access, read only, read & write, read & execute, or prevent access completely.
Control, charge and limit printed pages
Antamedia Kiosk software give you ability to control and limit printing over your Kiosk computer. Printer should be installed and set as Windows default printer prior Kiosk software installation .
Blocks Applications and Program Options

Accepts credit cards payments
Transfer files to your Kiosks
Protect Completely Your Computers
Secure Browser
Prevents the user from accessing the Internet Explorer menus, replaces popups and all other options that can open system options. Secure Internet Browser provides provides complete browsing experience for the customer while reducing maintenance time.
Password Protected Kiosk Setup
Requires password for accessing the Kiosk Setup or operating system. Computer runs in a lock-down kiosk mode, until admin presses the hot-keys and enters the password.
Protect Customer Privacy
Automatically deletes browser cache and history of visited pages. Prevent saving cookies which reveal customer identity and leave traces of the kiosk usage. Kiosk software restarts Secure Internet Browser after inactivity and prepares kiosk for your next customer.
Limited Browsing
Limits browsing to specified URLs. For example, you can allow your company website, facebook login page and disable other pages.
Disable File Downloads
Save on bandwidth costs and increase security by disabling file downloads, pop-ups, Java, ActiveX, scripts.
Web Filter
Easily block unwanted websites from being accessed on your kiosk. Select desired categories like adult, drugs, weapons, gambling, phishing, violence, virus infected etc. List contains 2.5M domains sorted in over 90 categories, with ability to whitelist desired websites.
Collect money
Payment Station helps you collect money from your customers using coin and bill acceptors. Software supports CCTalk protocol used by major hardware manufacturers.
Accepts credit cards payments
Save time and resources by allowing the customer to pay for Kiosk usage or WiFi HotSpot Internet access. The secure automated payment process lets you accept over 70 major internet payment gateways including PayPal.
Tabbed Secure Browser
Limits number of open pages in tabbed Secure Browser, configures start pages that will automatically open in browser tabs, forces customer seeing desired content by hiding tab close button, allows only selected URLs to open in browser tabs.
Easy to configure pricing
Create simple pricing like $5 per hour, or create complex price plans that are used to create tickets for returning users. Define available time, maximum daily time, number of logins and price for each plan.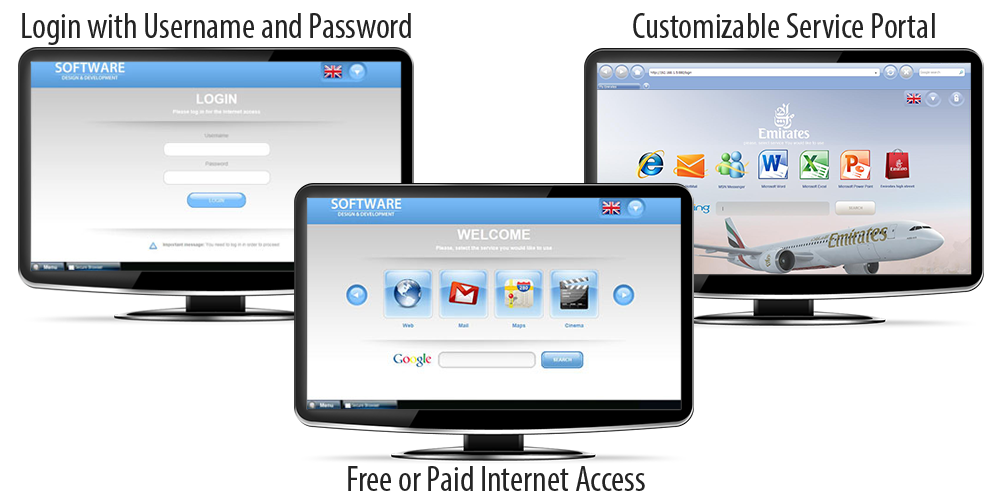 Customization and Self-Branding
Customizable Themes
Easily change Kiosk Start-Page theme displayed in customer browser. You can create your own multilanguage themes using white-label themes included with kiosk software, and include your own graphics and functionality.
Secure Browser Skins
Customizable browser look and feel. Change color to blue, black, green, brown, select large browser buttons for touch-screen or smaller buttons to save space, show or hide URL address bar, search engine, virtual keyboard, close, restore, minimize buttons, turn on animation on the browser background, run browser full-screen.
Customize Start Page
Make a great strong first impression with a start page that match the Kiosk purpose. Show a website landing page, open multiple tabs with their own custom URLs, or choose one of the predefined white-label start pages – airport, hotel, retail, beach, free use, kiosk login, pay and use.
Create your own Start Menu
Create Windows-like Start Menu items with programs, games and folders. Customers may use these applications free or for a fee, while you do not have to worry about regular security issues. Creating menu is easy – create folders and drag and drop files inside.
Self Branding
Change your logo, contact details, graphics and links to the webpages. Kiosk files are white-labeled and you can modify them to suit your needs and to match your corporate identity.
Digital Signage
Show notifications or advertisements by combining videos, images, webpages, flash animations. Choose one of the predefined layouts of the screen split in to the 2,3 or 4 parts, each configurable with different content.
Multilanguage Support
Integrated language editor helps you find and modify desired sentences, or translate kiosk software to your own language
Custom Development
We can assist you or develop an entirely new theme for your business, interface your application with the Kiosk software, or develop new software that will run on top of the secure Kiosk shell. Please contact us for quote.
Easy, Powerful and Reliable
Kiosk software is created based on your requirements. To provide known Windows environment for end users with complete control of computer from your side. It easily scale from a standalone kiosk to a major Kiosk Chain with the same simple interface.
Increase your profit
Up to a 33% increase in revenue. At the same time 70% of customers using a kiosk instead of live help. With a a 35% reduction in customer wait and transaction time.
Constant Development
Kiosk software is complex but simple for use application. It provide basic control of Free access over Kiosk computers but can also be used for a control of computers based on paid access using Credit Card module or Coin/Bill Acceptors. Depending from your needs.
Self-Service Kiosk Configuration
Share one customer account for all locations
Connect kiosks to the same database server (which is free of charge) and share user accounts among all your locations. Account can be used to login on another Kiosk or WiFi HotSpot which can be installed even on the same computer.
Configure Internet Explorer Settings
If you choose Internet Explorer over integrated Secure Browser, you will still have many configurable options to maintain good system stability and minimize ability for exploits. For example disable Open File, browser context menu, changes of security levels, etc.
Help users to easily send Email
Offer your customers quick Email sending through the integrated Email client or help them choose and connect on their own Email provider like Gmail, Yahoo etc.
Minimize maintenance time
Maintain and support unattended systems instantly without having to travel to sites. Access your self-service computers remotely and configure applications, troubleshoot, resolve issues, run updates, help customers, monitor suspicious activity.
Transfer files to your Kiosks
Save time and reduce the overhead and maintenance issues associated with sending files on your unattended computers. Transfer new updates, corporate branding files, xml configurations, content updates.
Virtual Keyboard for touch screen support
Eliminate the need for keyboards with the integrated virtual keyboard. Your customers can display virtual keyboard when they need it and use a kiosk touchscreen to enter data.
Who is Using Kiosk Software?
Full Control over Your Kiosk Computers
Kiosk software runs on a standalone computer.
If you are looking for multi-kiosk deployment, please check-out samples and contact us with your requirements for a custom solution.
Kiosk software can run on any Windows PC – from Windows 7 up to Windows 10.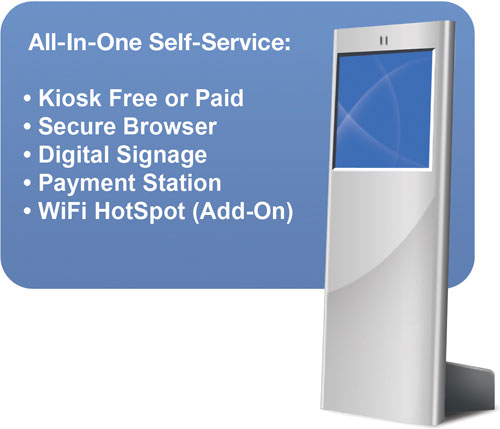 Technical support: Email, Phone, Online chat

Get the powerful management features

No obligations, zero-risk free trial
No reinstallation. Keep all your configurations

License is good forever. Free updates until next major release

Technical support: Email, Phone, Online chat