Get a Lifetime License and Free Support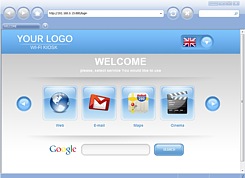 Buy a Kiosk software license and turn your computers into a self-service Kiosks. Securely display your website or application and reduce maintenance time.

Kiosk Software
Lite
Standard
Premium
Enterprise
Lock down your kiosk or public computer




Secure Browser with theme customizations




Customers sign-in to any kiosk with personal account




Collect money using credit cards, bills, coins




Add-ons
Pay Station
Collect money from your customers using coin and bill acceptors. Accept Credit Cards using one of the 70 payment gateways including PayPal.
WiFi HotSpot Kiosk
Control Internet access to all WiFi devices around your Kiosk. Increase revenue by installing Antamedia HotSpot and an access point.
Online Reports
Remotely monitor all your computers, get reports and statistics, view screenshots, plan a timely purchase of printer supplies.
OEM Branding
Your company name, logo and contact details Instead of Antamedia. Get your own Kiosk installer ready to deploy at customer premises.
Kiosk Software Upgrades
Upgrades to the new V2
Get the latest Kiosk Software release, upgrade to higher Edition and / or unlimited number of clients
Who Uses Antamedia ?
Windows 8 32/64bit Compatible
Kiosk Software can be installed on Windows 8/7, Server 2008/2003, Vista, XP. You do not need to buy a new computer.

Digitally Signed for your safety
You can be sure that software comes from Antamedia, clean and safe, with no warning messages on 64bit systems.
Frequently Asked Questions
Do I need to reinstall and reconfigure after buying ?
No, after licensing you will keep all your configurations and settings, and continue running the software without limitations.
May I transfer license if my computer fails ?
We allow license transfer to a different computer. License is tied to the machine hardware, so if it fails we will issue a new license for you free of charge. These changes are tracked to ensure fair-use.
Can I upgrade later ?
Yes. Our customers are entitled to a discounted upgrades to a higher software edition. Upgrades are billed as a price difference plus the processing fees. Please contact our sales for upgrades.
How will I get support ?
Our free support is available by Email, knowledge base, phone, live chat, forums. If you need more, please contact us for paid premium priority support with remote desktop maintenance and second level assistance.
How can I control WiFi devices ?
Antamedia HotSpot software can be installed on the same Kiosk computer. By adding an Access Point and configuring software, you will be able to control WiFi around your Kiosk. We can assist you with configuration.
Can I control all kiosks remotely ?
Online Reports service allows remote control and maintenance of all connected Kiosks. From the Kiosk software you can prepare a zip file with new configuration, file updates etc, and send zip update to all your kiosks.
Can I filter unwanted websites ?
Yes, you can easily block unwanted websites from being accessed on your kiosk. Content filter list contains 2.5M domains sorted in over 90 categories (like adult, drugs, weapons, gambling, phishing, violence, virus infected), with ability to whitelist desired websites.