HotSpot Software That is Leading the Industry
View Screenshots


First Choice of Professionals
HotSpot software lets you manage your own wireless network with any PC. You can set it to manage one router or a large network covering a whole city. Build cost-effective full featured
HotSpot
on a well known Windows OS.
Lite
Standard
Premium
Enterprise

View Screenshot
Offer discounts to get more business
The discount feature makes it easy to offer special promotions to your customers. This can help assist your marketing campaign by attracting new customers, and retaining existing ones.





View Screenshot
Get more business by issuing vouchers
Create prepaid vouchers for access to your network and allow customers to use them at a later date. Explore all
HotSpot Billing
methods available in HotSpot software.





View Screenshot
Streamline accounts with a refill option
Let customer keep the same account and simply add more time to it.





View Screenshot
Automatic control of late payments
Switch a customer that is late on monthly payment to a logon screen with a notification. After payment customer can continue using your service.





View Screenshot
Combined free and paid access
You decide if you want to charge people for access or allow free hotspot access which is great for cafeterias, restaurants, hotels.





View Screenshot
Manage all your hotspots in one database
Global hotspot gives you the ability to connect all your hotspots to the same database server, allowing you to manage all your customers from one location. This feature (which is free of charge) provides you with the tools needed to refill accounts, accept vouchers, and combine free and paid accounts.





View Screenshot
Print your own tickets
Antamedia HotSpot offers different templates for accounts, refills and receipt printing. Tickets can be printed when needed, or in advance, for example 100 tickets printed and distributed to various sales locations. Tickets can expire from first use, and optionally expire specified number of days from the last customer login.





View Screenshot
Track your earnings
You can check out earnings for a specified time period, a computer or an employee. Data can be exported as pdf, html, csv or text report.




Lite
Standard
Premium
Enterprise

View Screenshot
Watch online activity per customer
Real time customer activity shows download, upload, remaining data transfer quota, time usage. Activity is updated each second for each customer account, IP and MAC address.





View Screenshot
Secure Login
HotSpot login can be switched to secure mode login through HTTPS server, included in the package. We provide standard generic SSL certificate, and you can additionally purchase your own certificate in order to eliminate browser warnings. Secure mode can be used for login, password change, or collecting data. Credit card payments always goes through secure mode.





View Screenshot
Stop customers from sharing accounts
Limit an account so it can login only from one computer. If MAC address does not exist yet, it will be stored in the first login. From that moment, a customer has to use the same computer.





View Screenshot
Allow re-login if IP address changes
Allow a customer to login again if the account is already in use. The previous session will be logged out and a customer asked to login again (it can help when the connection is not stable and a customer is trying to connect while getting different IP addresses).





View Screenshot
Manage your bandwidth and set limits
Easily manage bandwidth consumption with our bandwidth quota feature. Bandwidth quota can be set to have monthly limits, daily limits, or both. Example: Customer can download 5 GB monthly, but will be limited to 100 MB.





View Screenshot
Internet Sharing (NAT)
HotSpot optionally uses NAT to share Internet connection to your network. This allows you to share one Internet connection (DSL, cable modem, wireless…) to all your customers.





View Screenshot
Client Isolation
Disable access and sharing among the clients. This option will prevent visibility of the server computer and also restrict any activity or abuse from the clients. Feature is included in Antamedia Free DHCP Server.





View Screenshot
Prevent Login Hacking
Set limits on the incorrect login attempts and force a customer to wait defined period until next possible login attempt.





View Screenshot
Blacklist devices by their MAC address
If there is some king of abuse from the customers, you can block desired devices from accessing your network.





View Screenshot
Disable login after multiple incorrect attempts
Stop hackers by limiting the number of times an incorrect password can be entered.





View Screenshot
URL Redirection
HotSpot software can redirect the customer to a desired web page after successful login. For example, you can redirect the customer to your main website URL or to the customer portal.





View Screenshot
ShowMeInfo and LogMeOut Keywords
Customer can automatically logout by typing LogMeOut in the browser address bar, or get info page by typing ShowMeInfo.





View Screenshot
Manage your network's traffic with IP and Port Filtering
IP and Port Filtering help you manage your traffic. Filtering can be used to limit specific services, like ftp or email usage, or to disable complete access to an IP range. For example disable IP addresses 80.10.10.10 to 80.100.100.100 and port range 10-100.




Lite
Standard
Premium
Enterprise

View Screenshot
Get Real-time usage reports
Know all your hotspots statistics and usage including who is using it, how long, and what they are doing.





View Screenshot
HotSpot Activity Log
HotSpot stores different actions performed by employees or customers, including sales, session start and stop, the time of login attempts etc. You can filter the database by date, action, username, computer IP or MAC address.





View Screenshot
Easily clear account IP addresses
Force clearing allows you to easily clear all in use IP addresses. This is useful when you have to restart HotSpot software.





View Screenshot
Time out your customers sessions
Helps you manage accounts which are not in use. This feature requires customers to re-login after specified time interval.





View Screenshot
URL Keywords
Specify keywords which redirect customer browser to other URL. For example, when customer enters competition brand name, browser will be redirected to your website. In addition, customer can modify default keywords for logout (LogMeOut ) and info page (ShowMeInfo).




Lite
Standard
Premium
Enterprise

View Screenshot
Highly Flexible User Accounts
Create tickets or user/pass accounts, assign them a price plan or configure custom properties like download and upload rate, available time and bandwidth quota, assign daily limits for time and quota, limit number of daily logins in the system, expiration date, multilogin, autologin, inactivity timeout, allowed time of the day for login, and many more options.





View Screenshot
Set your employee's account access
You decide the level of access you want your employees to have. An employee activity is logged with the time and the type of an action performed. There are different employee types like Administrator, Manager, Operator and each of them has access to different areas of software. Manager can see statistics and modify accounts, but it cannot modify the HotSpot main account.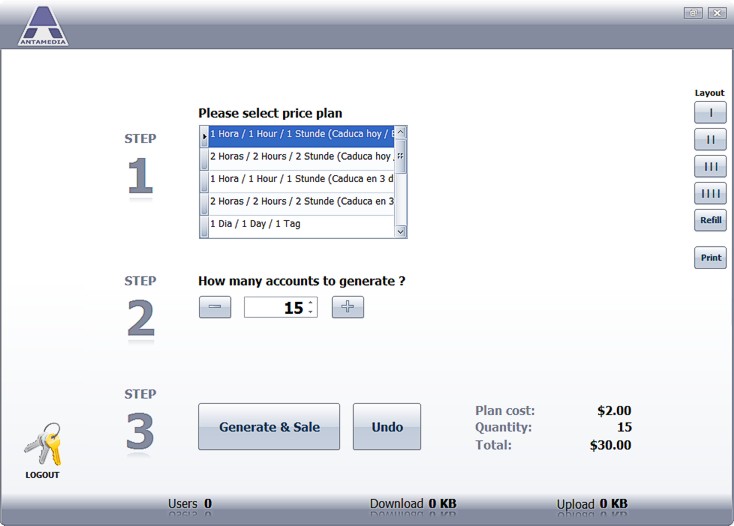 View Screenshot
Operator Mode – Easy Interface for Account Generating
Generate accounts in 3 steps: select a plan, set the number of accounts and click generate. Very simple and intuitive, it minimizes possible mistakes of employees. Suitable for front desks, hotel receptions, and novice operators. It can be used to generate accounts from a remote location.





View Screenshot
Manage Multiple Hotspot Locations
Connects all your hotspots in one network and you can use the same database. Your customers are able to use their remaining time in any of the hotspot locations. For example, a large resort can provide UTP connection in every room and install several access points in restaurants, a lobby, by the pool etc.





View Screenshot
Control connection speeds
You can easily manage your bandwidth by configuring the download and upload speed of each customer's account. You can sell high rate accounts for an additional fee or save more bandwidth for VIP customers.





View Screenshot
Customer Details and Photo
Create profiles for customers including their details to make it easier for them to refill their accounts.





View Screenshot
Customizable Print Templates for Tickets, Bills and Reports
Modify existing print templates or create totally new templates that match your business identity.





View Screenshot
Language Editor
There are plenty of languages included in HotSpot software. Any of these can be adjusted to your own needs through integrated editor. Some of included languages are: English, Spanish, Portuguese, French, Serbian, Arabic, Russian, Icelandic, Swedish, Danish, Greek, Croatian, German, Polish…





View Screenshot
Integrate HotSpot with Third-Party Software
Easily generate accounts, get a list of price plans, and perform various other actions from your own or third-party software. Integration is done as a HTTP GET query and XML response which offer very short integration time.





View Screenshot
E-mail notifications to keep in contact with customers
Sends e-mail messages to your customers to remind them about the account expiration, a payment receipt, a newsletter or service maintenance. HotSpot includes default E-mail templates which you can edit. You can even create new templates.




Lite
Standard
Premium
Enterprise

Lower Internet costs by controlling bandwidth
Define the upload and download rates for the entire network or individual users.





Keep 100% of your profit
We do not charge a percentage for using credit cards or any electronic payment. Hotspot Credit Card Payment Module License is sold separately





Satisfy your customers by not forcing extra advertisement on them
Many of our competitors force additional advertisements on people using their software. We want you to keep your customers happy and not have any additional advertisements served to them.





Make accessing your network easier and increase repeat customers
Many features in Antamedia HotSpot software make it very easy to use which your customers and employees will appreciate.





Sell faster access to preferred customers
Make more money by allowing VIP customers to pay more for faster access.




Creating YOUR hotspot is easy
You need a PC with two network cards and our HotSpot software. This computer will be a gateway for your network.
Customers are redirected to your self-branded login page to sign-in or pay before getting the Internet access, or automatically login with remaining quota and time.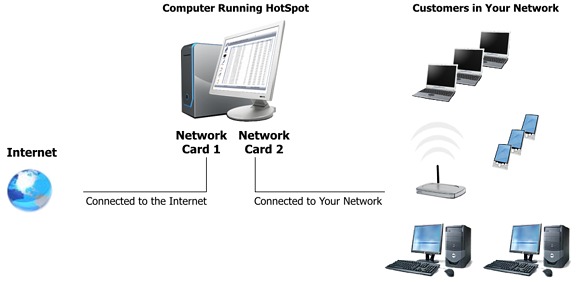 WiFi HotSpot Networks
Scalable from 1 room to 1 city, our software helps you easily start and grow. Maintain customer accounts, accept credit card payments with 100% of profits, store billing data, statistics and usage reports, all within a single application. Build your WiFi and wired network with any hardware you already own.

ISP, WISP, Telecom
Internet service providers may easily control Internet use, create complex price plans, bill customers through 70+ reputable payment gateways, maintain customer accounts and get robust reports on billing, usage, bandwidth, URL logs. It supports wired and wireless connections and it's hardware independent.

Hotel WiFi, Resort, Hospitality
Comply with anti-terrorism laws by recording every customer session time, IP, MAC, and URLs visited. Offer free Internet, paid, or both, our software takes care of customer Internet use through WiFi, room cable, mobile phones. Additional Operator interface helps reception staff easily generate new tickets.

Restaurant, Cafe, Retail
Increase your revenue and customer loyalty by offering free Internet, offer Hi-Speed access for larger orders, or VIP Internet access for regular customers. Software automatically stores customer details and visited URLs and fully comply with anti-terrorism Pisanu Law and EU DIRECTIVE 2006/24/EC.

University, School, Library
Educational institutions grants students and visitors limited access, usually monthly renewable and with daily limitations. Block access to adult websites, integrate with existing Active Directory, limit bandwidth per user, track usage logs and get real-time statistics.

Companies, Government
Reduce bandwidth requirements, log visited URLs, prevent personal Internet use during working hours by limiting access to YouTube, Facebook, and other websites you define. Offer secure login and optionally force visitors to enter personal data before granting Internet access.

Cruise Ship, Marina, Park
Efficient control over the expensive satellite broadband and sharing to the users over WiFi access points. Prevent excessive downloads, bill by the data transferred, offer free trials or create different account levels with optional limitations like max daily transfer, time or number of logins.

Airport, Transport, Outdoor
Provide WiFi connectivity for people on the move. Help them do the business remotely, handle reservation systems, check weather forecasts, manage rentals, stay in touch with home security.
Try it Free
See how easy it is to setup
Learn the powerful management features.
Buy it when you are convinced we are the best.
Buy Your License

No reinstallation. Keep all your configurations.

License is good forever. Free updates included until next major release.

Ability to transfer the license to new computers.

Free technical support: Email, Phone, Online chat, Forum.