Get Setup With Bandwidth Manager
Installing YOUR bandwidth manager is easy
You need a PC with two network cards and our Bandwidth Management software. Automatically control users download and upload speed, and limit Internet access with remaining quota and time. No client installations.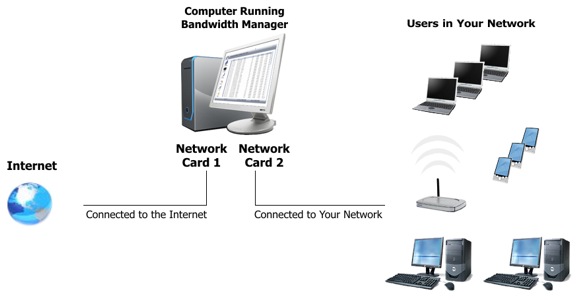 Check-out sample network configuration or setup videos.

University, School, Library
Educational institutions grants students and visitors limited access, usually monthly renewable and with daily limitations. Block access to adult websites and redirect them to restricted page, limit bandwidth per user, assign higher speeds to selected users, track usage logs and get real-time statistics.

Companies, Government
Reduce bandwidth requirements, log visited URLs, prevent personal Internet use during working hours by limiting access to YouTube, Facebook, and other websites you define. Allow Internet use for unknown users with limited rights, or grant Internet access only to known users in your network.

Apartment Blocks
Scalable from 1 room to 1 city, our software helps you easily implement bandwidth management without any client installations. Maintain user accounts, share Internet access, get statistics and usage reports, all within a single application. Build your WiFi and wired network with any hardware you already own.

ISP, WISP, Telecom
Internet service providers may easily control Internet use, create separate access rules for known and unknown users, share Internet connection, maintain users and get reports on usage, bandwidth, URL logs. It supports wired and wireless connections and it's hardware independent.

Guest Internet Services
Whether it's a WiFi, wireless, wired, cable or satellite connection, our software takes care of the guest Internet control. It records every customer session time, IP, MAC, and URLs visited, and protects your business by preventing access to blacklisted sites.

Internet Cafe, Game Center
Reduces your overall bandwidth requirements and improves network efficiency. Integrates with Antamedia industry leading software for Internet Cafes: grants Internet use when a user login, and cuts connection after logout, saving bandwidth and money.
Try it Free
See how easy it is to setup
Learn the powerful management features.
Buy it when you are convinced we are the best.
Buy Your License

No reinstallation. Keep all your configurations.

License is good forever. Free updates included until next major release.

Ability to transfer license to new computers.

Free technical support: Email, Phone, Online chat, Forum.