Leading Internet Cafe Software in Industry
Controls and secures your cyber cafe, gaming center, public computers. Bill your customers for the Internet, games, apps, printing, VOIP calls, WiFi and sell POS items.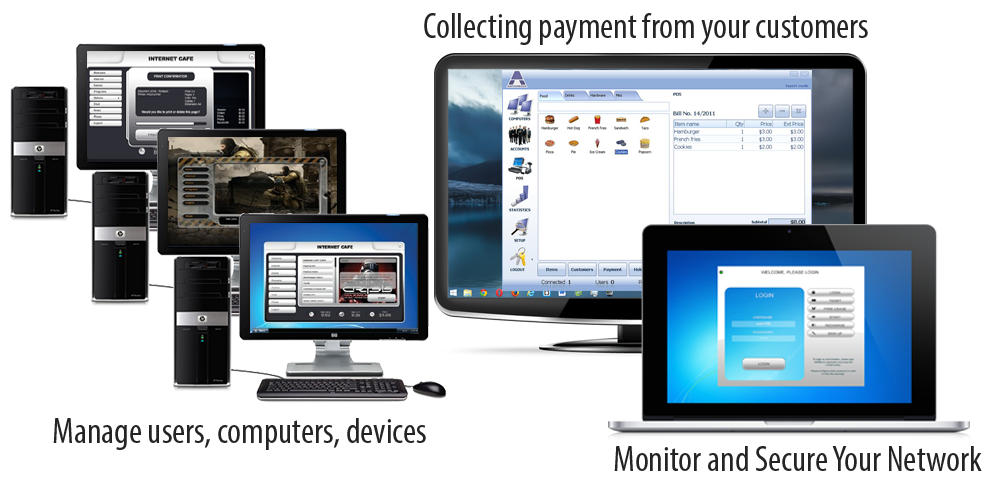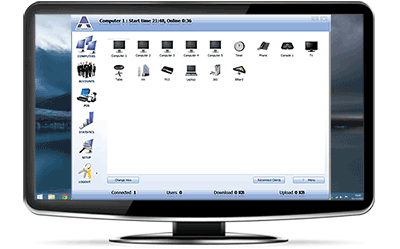 Internet Cafe Server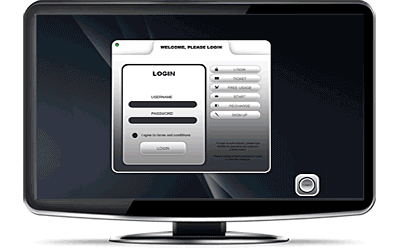 Internet Cafe Client
API Integration
Internet Cafe software can automatically login accounts in Antamedia HotSpot and Bandwidth Manager. Limit users with specified download and upload rate. Assign limited or unlimited bandwith quota. Configure limited or unlimited login time.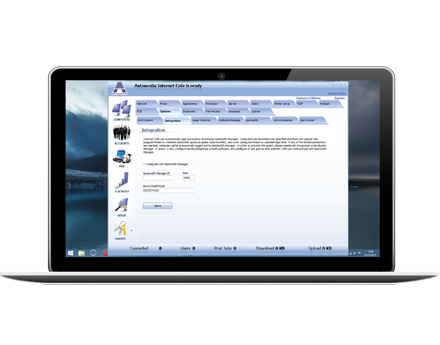 Set Your Employee's Account Access

Language Editor

API Integration

Printer Control Management

Blocked Windows Control
Various print templates

Charge for computer usage and POS items

Limit data transfer

Convert time to printed pages/megabytes

Manage computers remotely
WiFi customers control

Promo free access

Customer centar

High security level

and much more features …
Easy Control over YOUR Cafe
You need a Windows PC computers and our Internet Cafe software. Install server part of the software on your main computer, and client part on all other computers in the network. If you wish to control WiFi laptops, you will need two network cards in your server computer. Server and clients can run on any Windows – from XP to Windows 8.
Internet Cafe Software Network Topology Examples
Increase your Cybercafe profit
Tight control of your employees, POS system that bills additional services, accept credit cards and offer automatic payment and signup. Various reports provides instant access to statistics, current stock. Save your time, money and effort !
Easy, Powerful and Reliable
Internet Cafe software is created with your needs and concerns in mind. It easily scale from a little Cyber Cafe shop to a major Cafe Chain with the same simple interface.
15 Years of Development
Internet Cafe software is first Antamedia brand application. It was providing basic control over Cyber Cafe in late 1999 when it is developed. Internet Cafe software grow over time with customer business and their users expectations and needs.
Who is Using Internet Cafe Software

Internet Cafe, Cyber Cafe
Our software helps you easily start and grow. Maintain customer accounts, accept credit card payments with 100% of profits, store billing data, statistics and usage reports, all within a single application. Build your WiFi and wired network with any hardware you already own.

Game Center, Gaming Center
Configure games available to customers, easily control Internet use, create complex price plans, maintain customer accounts and get robust reports on game statistics, billing, usage, bandwidth, URL logs. It supports wired and wireless connections and it's hardware independent.

University, School, Library
Educational institutions grants students and visitors limited access, usually monthly renewable and with time limitations. Block access to sensitive computer resources and allow access to important application for your students at the same time, track usage logs and get real-time statistics.

Laundromats
Bill your customers for Internet use or playing games while they wait in your premise. Waiting time never was so fun as it is now with latest games or WiFi service.
Featured Customers