Remotely control your computers, work remotely, provide customer help, help desk service, stream presentation to multiple viewers.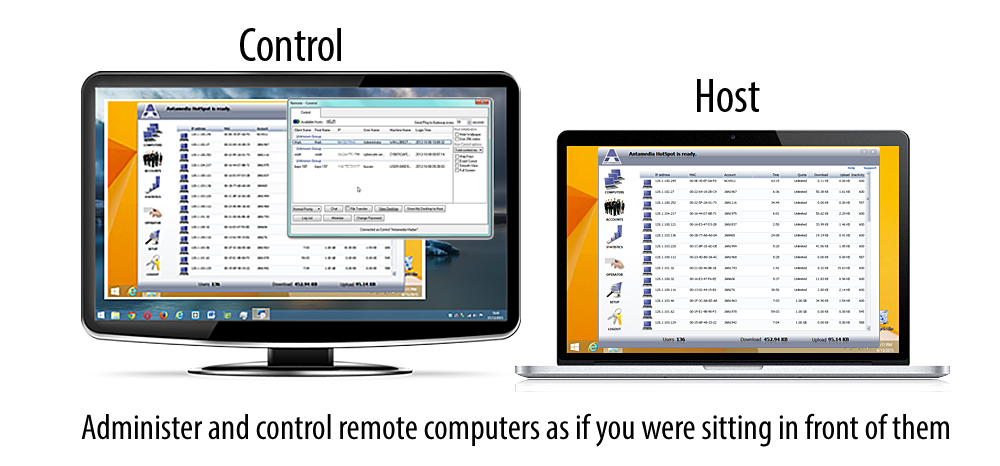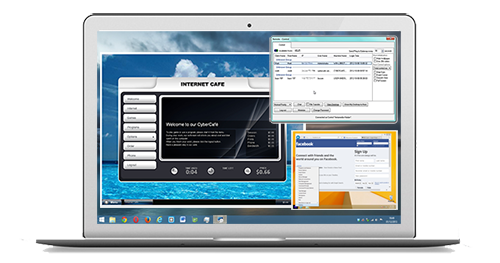 Easy To Use
Remote Control Software helps you to administer and control remote computers any time and anywhere.
No installation, no access codes or IP's to remember.
All in One solution for a wide variety of scenarios in one single software : remote maintenance, support, access to unattended computers, home office, online meetings, presentation, training sessions and team work

Administer and control remote computers as if you were sitting in front of them

No need for any installation

Free Host and Control: All hosts (Remote Host and Remote) and control (Remote Control) are completely free, only Gateway needs a license. This allows you to give the host software to your customer, and the control software to your employees without any obligation.
Manage all your connections easily: All user information is stored in the Remote Gateway software. This makes a centralized system with specific user rights. Easily support two or more hotels or businesses as a super admin, while having a local admin for each premises.

Firewall and proxy server support without the need for the customer to change any settings

24/7 access to remote computers or servers

Fast return on investment: the license fee will pay off very quickly due to time and cost savings

Full support for Windows platform (Windows 2000+) 32-bit and 64-bit
Using Remote Control is Easy
You need a Windows PC computer for a Remote Gateway software. This is a part of software that connects all users and remote computers. It takes care of the dynamic IPs, runs as a service, and it's used to create user accounts that can access the system – as users, admins or super admins.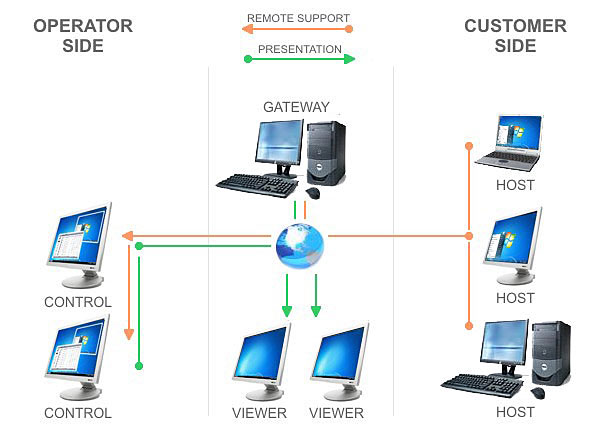 Remote Gateway
Runs on a central Gateway PC, a static or dynamic IP address
Remote Host or Remote
Runs on a customer/user side
Remote Control
Runs on an operator/control side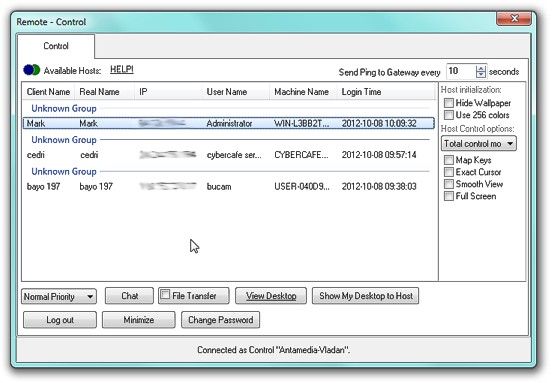 To access your customers' PCs, you will also connect to your Gateway with Remote Control, where you will see all your currently connected customers and be able to simply select a PC from the list to start Remote Desktop Control, File Transfer, Explorer and/or Chat.
Using Remote Control, you will be able to see everything your customers see on the screen and use your mouse and keyboard to control their PCs as if you were sitting in front of them.
You will also be able to chat with your customers, or browse through all their drives, files and folders remotely, download files or folders from their PCs, and send files or folders to your customers' PCs by using simple Drag&Drop. Enabling a full drive access to Remote Host or Remote, you can also move, rename, delete and execute their files/folders remotely. If you need to show something on your screen to one or more of your customers, you can simply use the "Show My Desktop to Host" feature, which is built into Remote Control.
Featured Customers

Try it Free
See how easy it is to setup.

Learn the powerful management features.

Buy it when you are convinced we are the best.
Buy Your License
No reinstallation. Keep all your configurations.

License is good forever. Free updates included until next major release.

Free technical support: Email, Phone, Online chat