The industry leading software for WiFi HotSpots
HOTSPOT V5 IS THE RECOMMENDED UPGRADE. IT BRINGS MUCH HIGHER STABILITY AND INCREASED PERFORMANCE!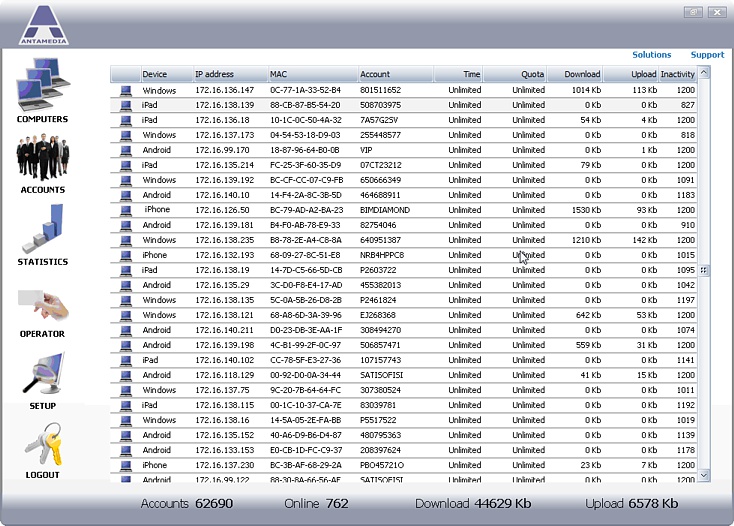 Why is Hotspot V5 upgrade important ?
We have spent almost 2 years (since 4.6 version) checking every HotSpot feature, having fixed and improved a number of options.. There are security fixes that resolve discovered vulnerabilities.
New faster network driver brings increased network performance and allows higher customer speeds. A root cause that led to instability in case of higher capacity Internet links was found and corrected.
Many options have been optimized to work better, to be easier to setup, or to be more useful. Hotspot pages are responsive and customizable, and (pages) look better on many new devices.
This is the most complete and feature-rich update since initial 2006 Hotspot release.
If you are running any of the previous versions, upgrade now to HotSpot V5 !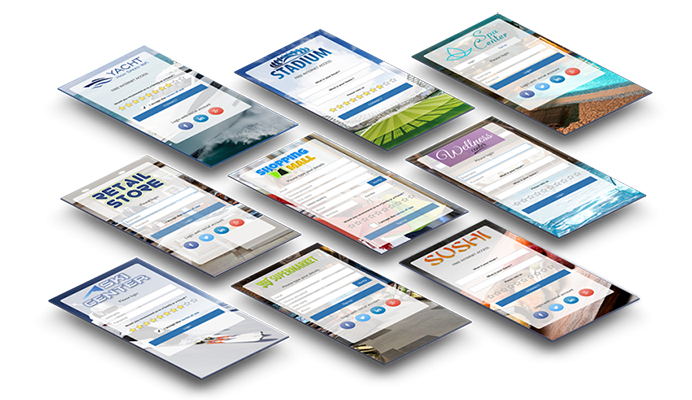 Brand New 50 Shiny Themes for Your HotSpot WiFi
Enhance the customer experience with more than 50 responsive HotSpot themes. All the themes can be easily customized with your logo, background, branding, buttons and special elements like surveys, social login, signup forms.
One of the major new features in Antamedia HotSpot are Customer Satisfaction Surveys.
This feature helps you collect surveys from your customers using the perfect channel – your WiFi. Survey form can be displayed in the login screen, welcome page, or anywhere you desire.
It can be configured to appear on each location in your network or only on some of your locations.
Read More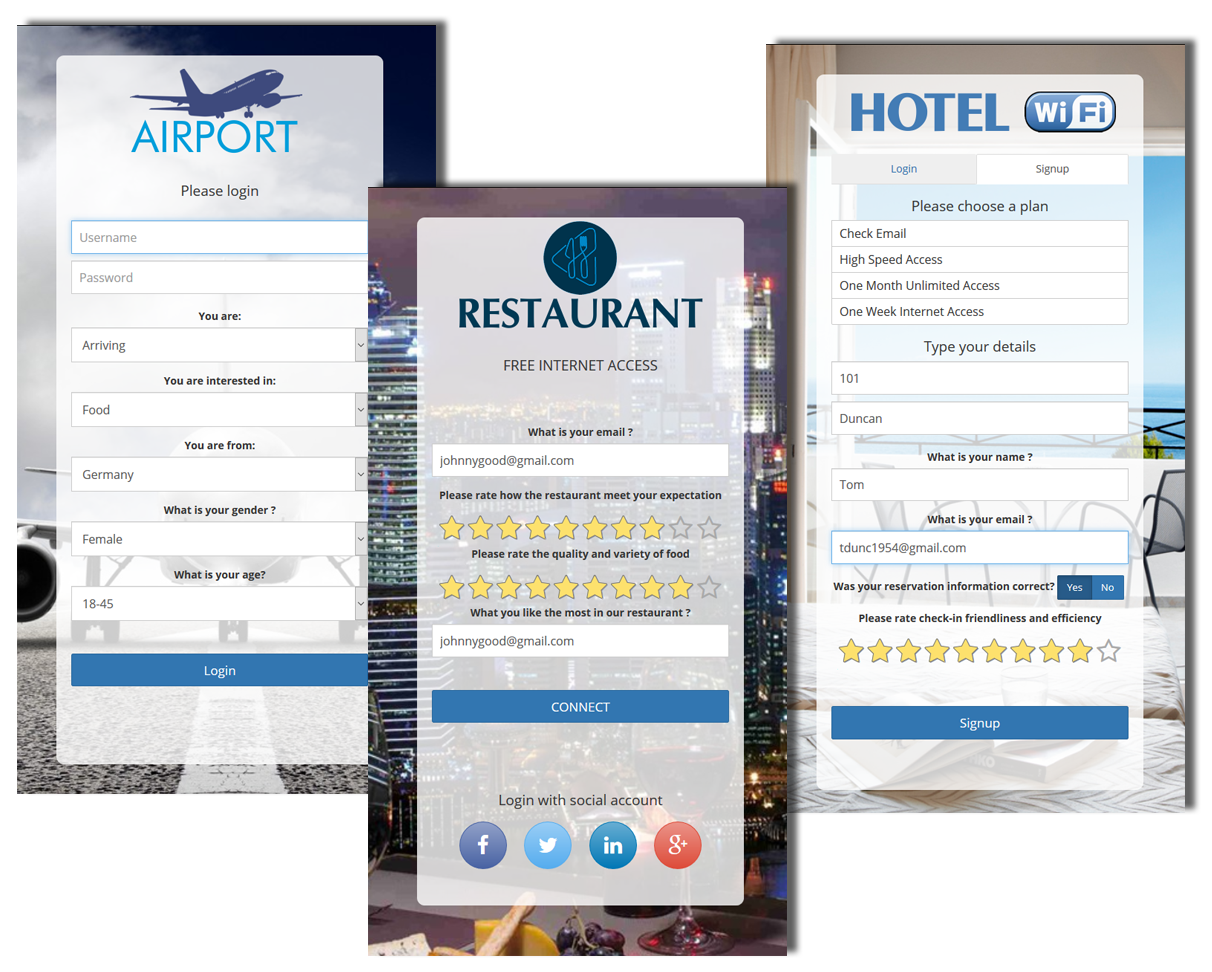 Speed Boost for Hi-Speed Access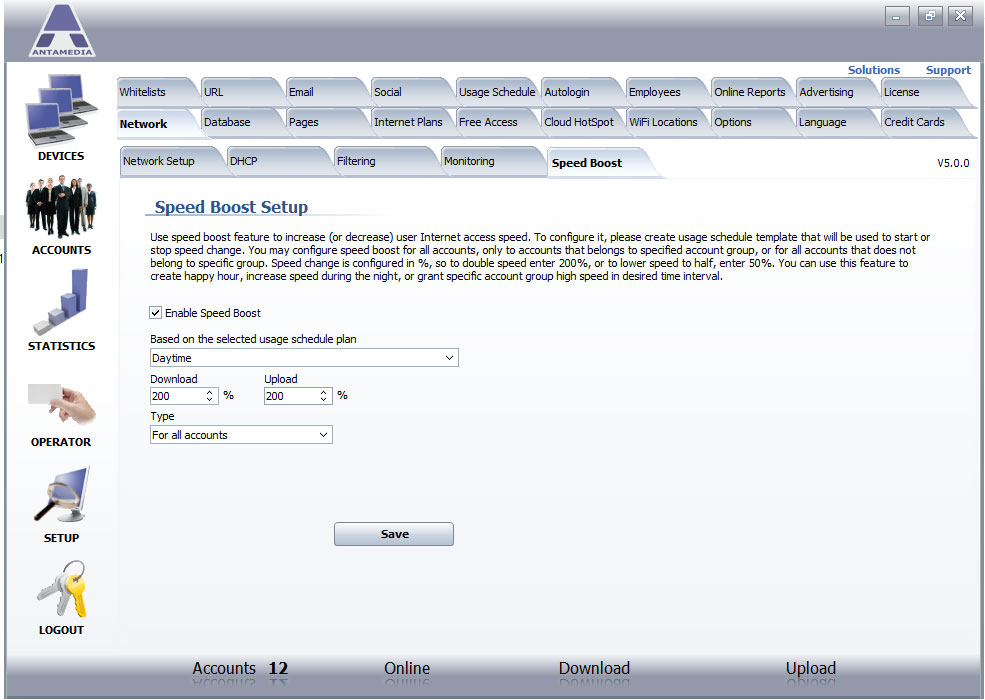 With Speed Boost option you can increase (or decrease) user Internet access speed during specific time interval
Speed Boost feature is based on selected Usage Schedule plan.
You may configure speed boost for all the accounts, only for those accounts that belong to a specified account group, or for all the accounts that do not belong to a specific group.
Use this feature to create happy hour, increase speed during the night or grant specific account group high speed in desired time interval.
Access Point & Device Monitoring
This new feature provides information about uptime and availability of your network devices.
It pings your access points, routers, computers, streamers, and other network devices and track responses.
If it detects that device is not responding within configured time, it will send an error report by email or SMS to predefined address/mobile.
Report shows last ping time, offline duration and a number of ping attempts that resulted in error.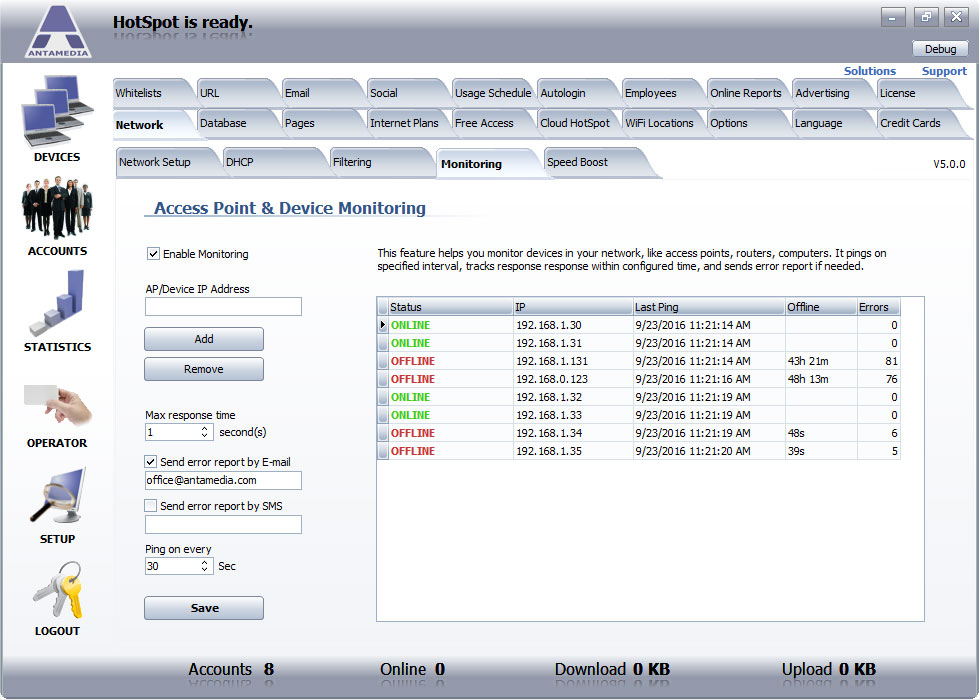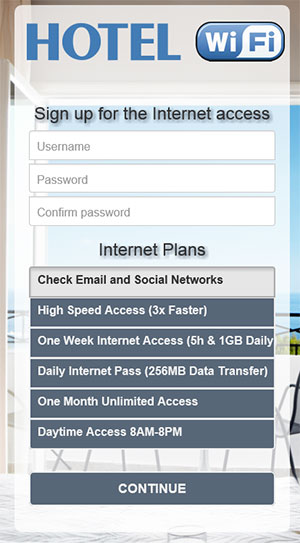 Signup page originally had 3 steps to complete the process. We've decreased it to 2 steps by combining initial selection of the Internet plan with input of user credentials.
Signup may even create a ticket when used with credit card payment. This eliminates requirement of username and password and shortens the steps even more. After successful payment with the credit card, a user will get a ticket alphanumeric code on the receipt page. Account upgrade follows the signup shorter method. A user will enter account credentials, confirm password, select an Internet plan and pay with configured method.
PMS based signup can now be configured two-way. A guest can type a room number and a name, select a plan and get the access. If a plan has a cost, amount will be added to the guest room. Guest will be able to login on multiple devices as configured with a plan. Second PMS signup method allows each guest to have a separate account. During the signup, guest will confirm a room number and the name, and be able to choose a unique username and password. This is suitable if there are usually multiple guests per room with different last name.
HotSpot Software Features
Control smartphones, tablets, laptops

Manage bandwidth, download and upload

No network changes, use your own WiFi hardware

Customize login pages for WiFi locations

Collect customer satisfaction surveys

Provide coupons for completed surveys

Improve rank on TripAdvisor, Yelp etc

API: Integrate with third-party software

Website, MAC and IP whitelist

Social login: Facebook,Twitter,LinkedIn,Google,VK

Collect customer data for marketing
More than 50 customizable HotSpot themes

Create users or tickets with custom Internet plans

Hotel PMS Interface to Opera, IDS, and 20+ more

Accept credit cards & keep 100% profits

Web self-care Customer Portal

Access Point & Device Monitoring

Automatic Emails for marketing

Speed boost for off-peak hours

Print your own WiFi voucher tickets

Internet Sharing (NAT) for all devices

Auto-login users to increase ease of use
URL filtering and logging of visited websites

Client isolation

Internet plans per location

Decrease speed for expired users

Language editor with auto-language selection

Set employee's account access level

Get real-time statistics and usage reports

Watch online activity per customer

Block websites with 2.5M domain web filter

Manage multiple hotspot locations

Active Directory Integration
We listened to your requests and implemented a free signup with mobile number.
How does it work ?
When a user connects to your WiFi, a mobile phone number should be verified. A user types the number and gets an SMS with a password on the mobile device.
A phone number is used as a username and it is always unique.
If the user forgets the password, he can request it again to be delivered by SMS.
This signup method is preferred in many countries, as it grants free WiFi but also keeps track of the user number that serves as a person identificator.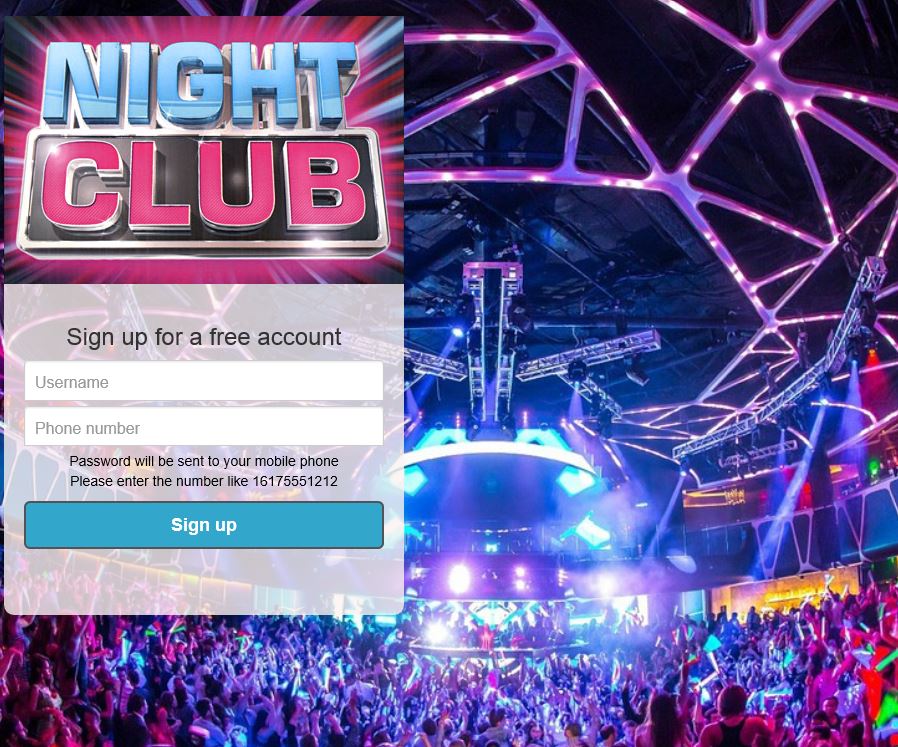 Internet plans (previously called Price plans) have been improved with several new options:
• Plans can be configured for all WiFi locations (like Lobby, Beach etc) or only selected locations
• Plan may have autologin and inactivity settings turned on or disabled
• Plan may appear only on desired pages like signup or free pages, or it can be available only to HotSpot operator
Another great feature is the ability to decrease download and upload rate when all bandwidth quota has been used.
In such cases, you can enable option and set minimum speed that a user can have, until the next refill or payment.
For those busy people, login with social account is sometimes the best and the fastest choice to get WiFi. Our software can be configured to accept login from several social networks.
Since users are usually logged in on their mobile devices, the only thing they need to do is to click the button of a preferred social network, and confirm login to WiFi.
With new changes and limits introduced by Facebook, we have decided to abandon older types of social login and provide social login to the most popular networks.
Besides Facebook, we have included Twitter, LinkedIn, Google, and VK.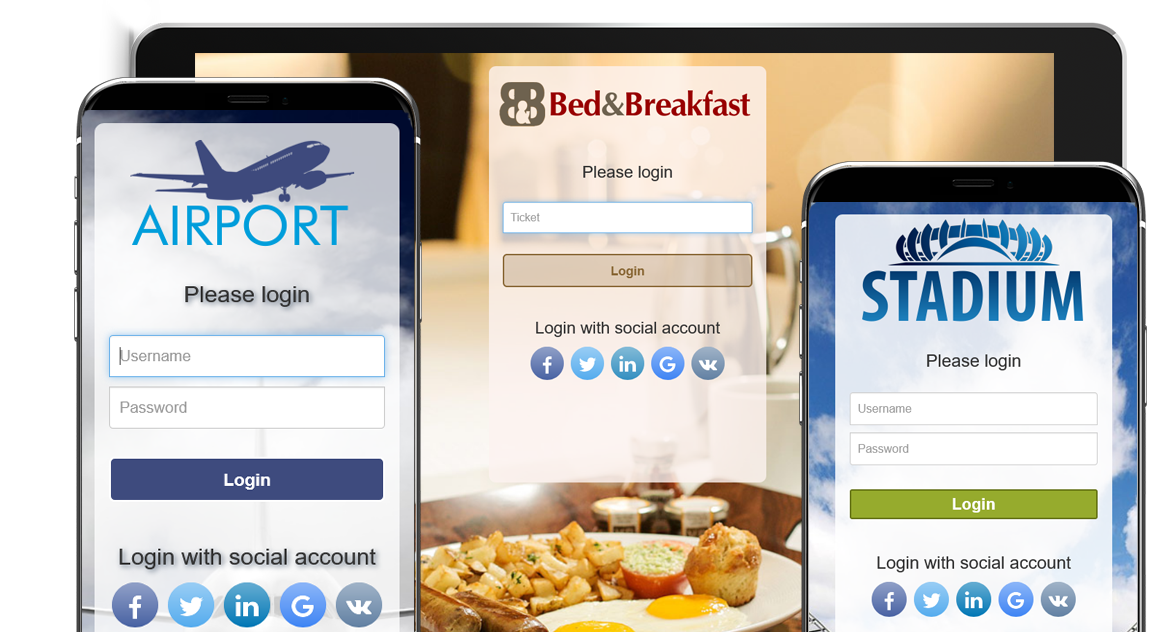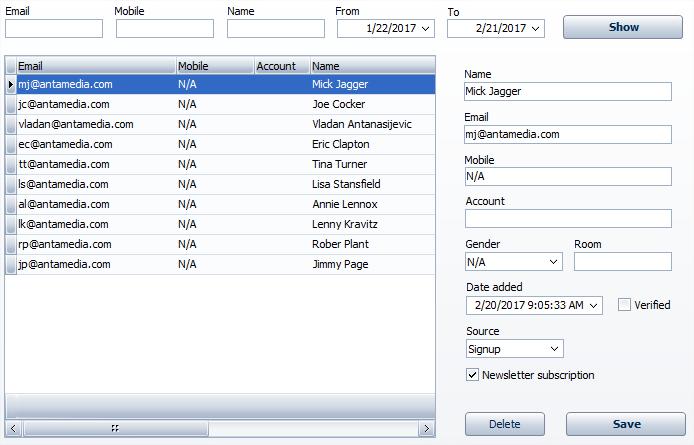 Customer data collected from social networks, free signup and paid signup are now stored in User Data table.
It displays email, name, mobile phone number, room number along with information if a user is verified (like email signup), date added and last login.
Newsletter option is maintained and used if user unsubscibed from further email notifications.
User data can be filtered, modified and desired users deleted. List can be exported for external software marketing purposes.
Email Templates & Campaigns
Another big improvement is the Email part of Hotspot. We have replaced html editor with an easier to use editor that does not require coding knowledge. Email templates are modern and responsive. Logo image can be specified as well as two images that can appear on the top and at the bottom of the email text. Old templates have been replaced with the new ones.
Sending newsletter campaigns is a new feature which allows you to send informational and marketing emails to your customers. Once you design your email template (like Newsletter in the image), you can select target recipients. You may add:
• All users from your User Data list and customer database
• Free users only
• Users with an account (username and password)
• Users that signed up through social networks
• Select users by specifying email (or part of it)
• Users from selected account group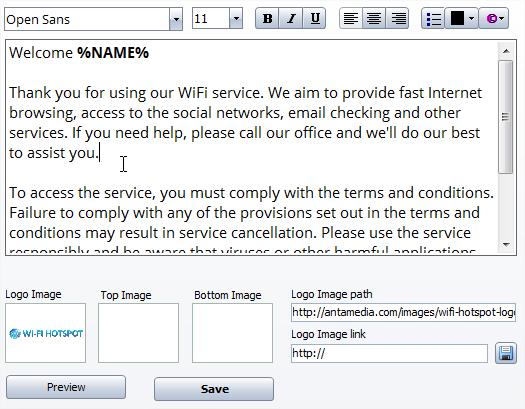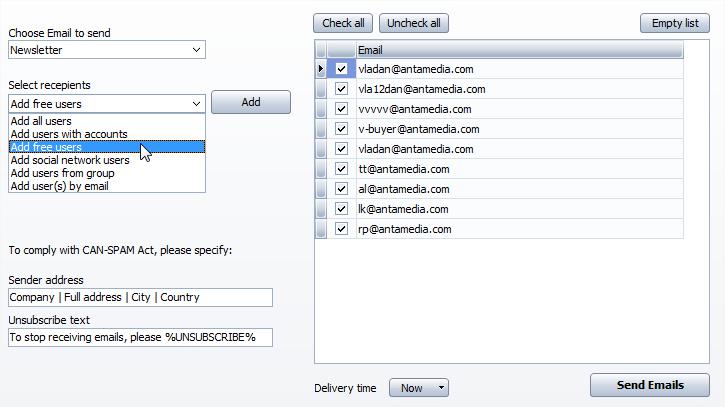 The list can be edited before sending and desired emails unchecked (removed). You can specify delivery time (NOW by default) and send your emails at desired time if needed. Clicking on Send emails, all the emails will be queued and the delivery will start considering the delivery date.
All the scheduled emails are stored in the Email Outbox from where they can be previewed, edited, deleted or re-scheduled for a later date.
Feature is SPAM-ACT compliant and allows a specification of a sender address (Company | Full address | City | Country) as well as the ability to unsubscribe from the list.
Automatically send emails to your customers after a predefined time interval.
For example, when a customer signs up for your service, send a welcome message with basic service introduction.
After 2 days, remind your customer about special promotion.
After a week send an email about new product or service. Emails can be personalized with %NAME% for better conversion.
HotSpot allows creating different rules for automatic email delivery.
It may be configured to send follow-up templates in all hotspot locations or specific template in specific wifi location.
While automatic emails are used for customer communication, automatic reports are used to deliver you hotspot reports in your mailbox.
At a specified time (daily, weekly or monthly) HotSpot may prepare and send you: Overview report (PDF), Sales report (PDF), User data report (PDF and CSV).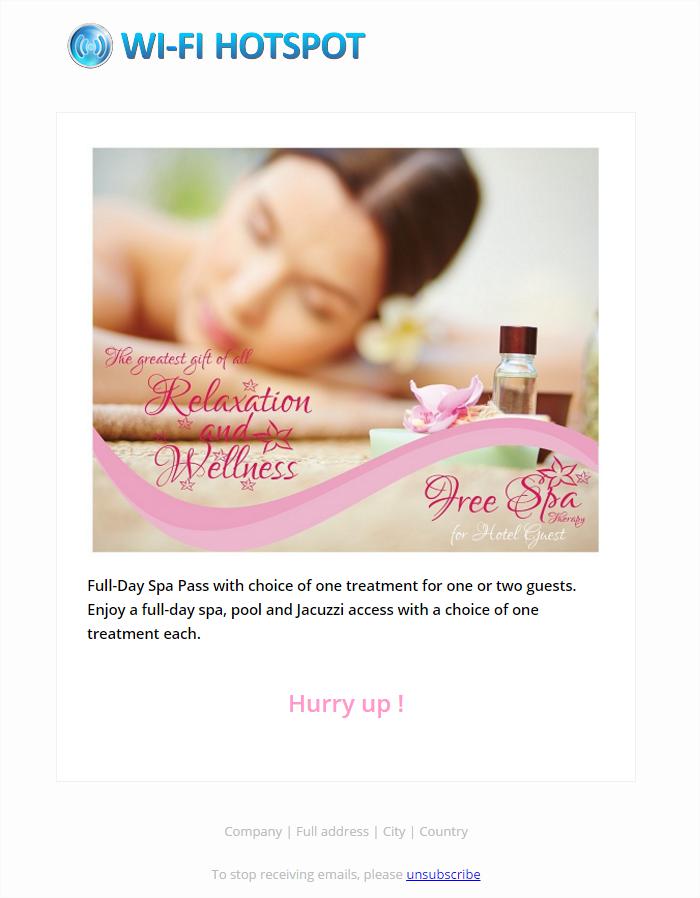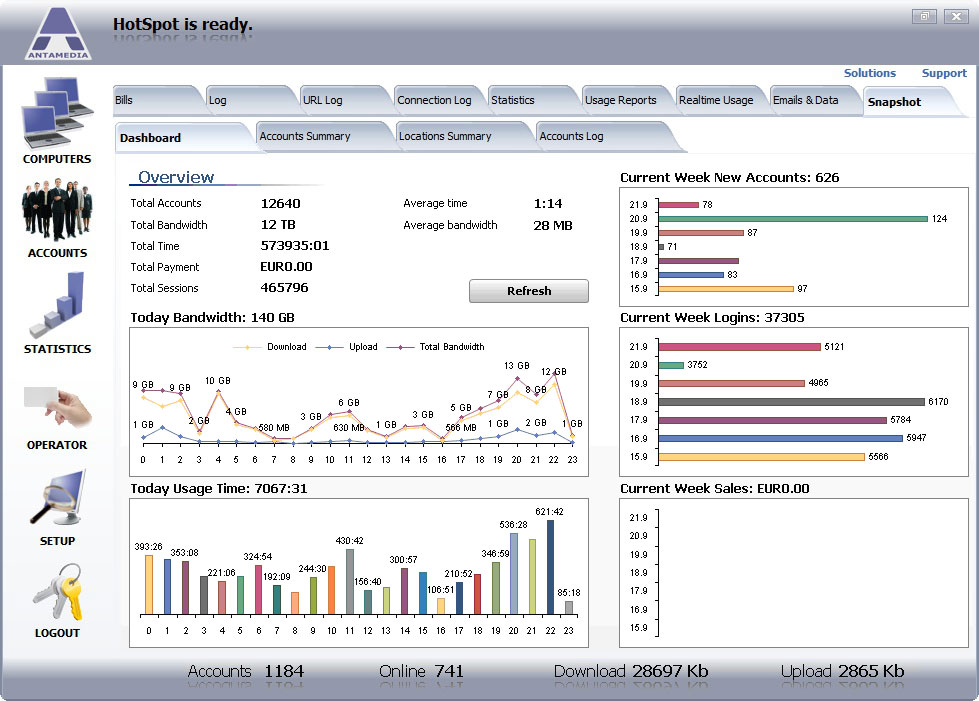 From the Statistics Dashboard in one single click you can get an overview of all the import statistic details like the number of Total Accounts, Total Bandwidth, Total Time, Total Payment, Total Sessions, Average time and Average bandwidth.
• Accounts Summary provides preview of all account based database actions.
• From Location Summary you have summary results that can be filtered based on WiFi Locations configuration.
• Accounts Log gives information and reports regarding all Accounts actions and activity.
Technical support to get setup fast and easy.

Learn the powerful management features.

Buy it when you are convinced we are the best.
No reinstallation. Keep all your configurations.

License is good forever. Free updates until next major release.

Free technical support: Email, Phone, Online chat