Control user WiFi Internet access on vessels, oil platforms, rural areas where Internet link may have periodic interruptions or high delays
Control user WiFi Internet access on vessels, oil platforms, rural areas where Internet link may have periodic interruptions or high delays


Implementing Central HotSpot Server with HotSpot Software
Main user management functionality:
Bandwidth Quota Management: Limits amount of data available to each customer

Speed management: Limits download & upload for each user, with adjustable limits per user

Controls multiple user devices with configurable number of devices for each user

Controls time available for each user

Uses Internet plans with configurable limits to create desired limits and apply them during new account creation

Limits daily or monthly available bandwidth quota. Amounts are reset each day/month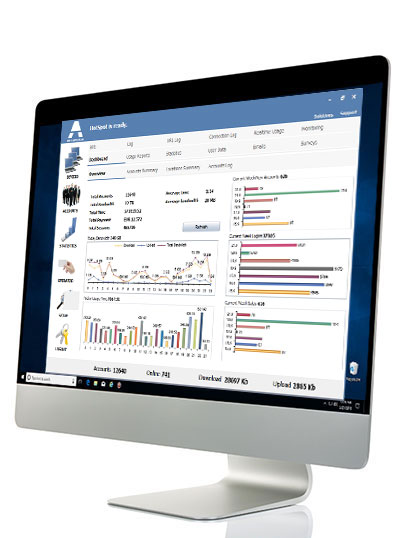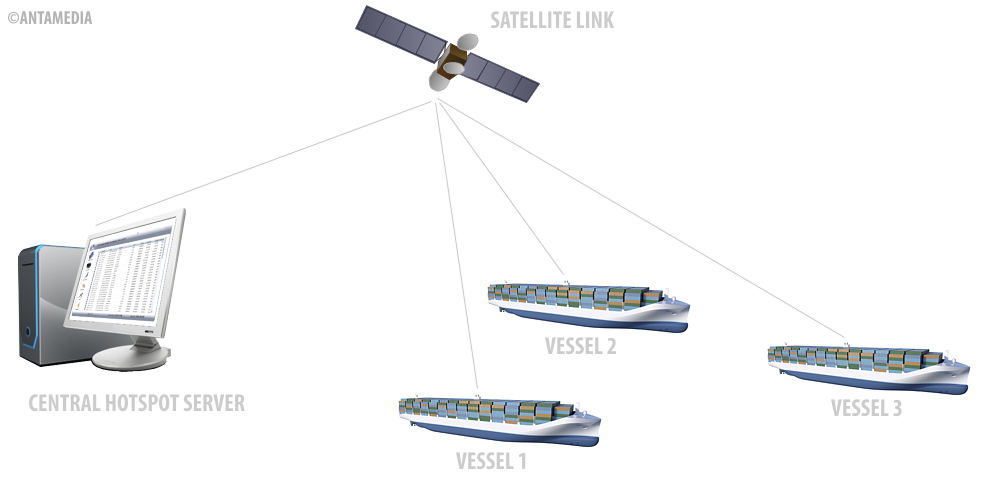 Authenticate users in the CHS running remotely on a public IP.
Each login attempt is verified in a central database and parameters are passed to a local HotSpot for synchronization. After each user logout, user account is synchronized with a central database.
Feature is especially useful for Satellite Internet companies serving ships or remote locations that needs central account management. Administrator can create and manage all accounts on a Central HotSpot Server. Requires Premium edition.
HotSpot Software Features
Control smartphones, tablets, laptops

Manage bandwidth, download and upload

No network changes, use your own WiFi hardware

Customize login pages for WiFi locations

Collect customer satisfaction surveys

Provide coupons for completed surveys

Improve rank on TripAdvisor, Yelp etc

API: Integrate with third-party software

Website, MAC and IP whitelist

Social login: Facebook,Twitter,LinkedIn,Google,VK

Collect customer data for marketing
URL filtering and logging of visited websites

Internet plans per location

Decrease speed for expired users

Language editor with auto-language selection

Set employee's account access level

Get real-time statistics and usage reports

Watch online activity per customer

Block websites with 2.5M domain web filter

Manage multiple hotspot locations

Active Directory Integration
More than 50 customizable HotSpot themes

Create users or tickets with custom Internet plans

Hotel PMS Interface to Opera, IDS, and 20+ more

Accept credit cards & keep 100% profits

Web self-care Customer Portal

Access Point & Device Monitoring

Automatic Emails for marketing

Speed boost for off-peak hours

Print your own WiFi voucher tickets

Internet Sharing (NAT) for all devices

Auto-login users to increase ease of use
HotSpot Login
HotSpot login can be configured as:
Dual login with standard username/password or ticket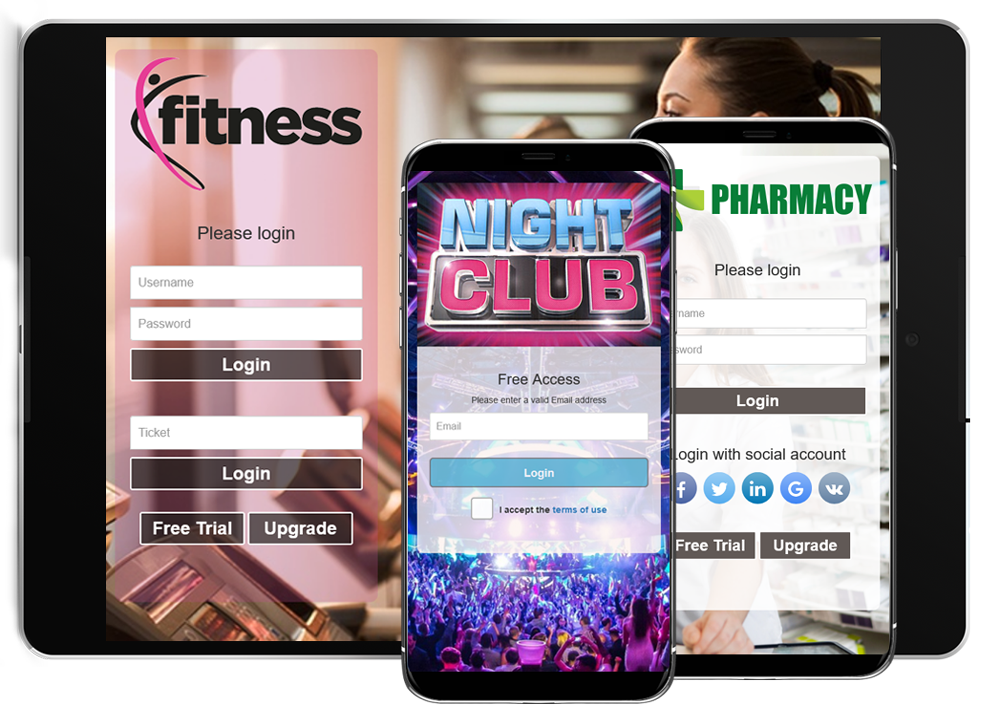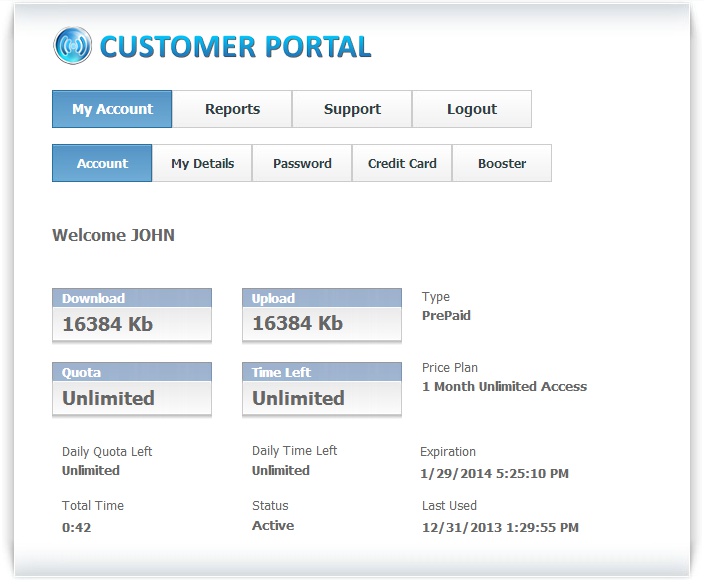 Web self-care application provides customers all of their information and available actions through easy interface.
• Customers can check their account status, assigned price plan, download and upload rates, remaining quota and time, expiration, last usage date and paid invoices
• The same interface help customers check their usage, session time and duration, download and upload, number of sessions, with their IP and MAC. Usage report can be filtered by a desired date range
• Portal helps customers to update personal information, password and credit card details (if used)
• Booster feature helps customers increase bandwidth in a specified time interval and automatically add charges to the customer bill.
Responsive Pages and Simplified Customization of Themes
HotSpot pages and themes which are displayed in the customer browser have been simplified to bring responsive design — the same html code for laptop, tablets, smartphones and other mobile devices.
Updated pages scale according to the device screen size and eliminate requirement for separate mobile pages.
Included themes can be easily changed by choosing Logo, background, branding and buttons.
New Bootstrap theme and page group are based on popular Bootstrap framework, so you can modify exiting themes, or build new themes based on pure html, jQuery or Bootstrap frameworks.
Limit Monthly Bandwidth Quota and Time Usage
Easily configure monthly usage for desired accounts.
Limitations can be applied in different ways:
• using the price plans
• configure each account individually
• apply monthly limits to all accounts using Update Accounts
This feature resets quota on the first day of the month.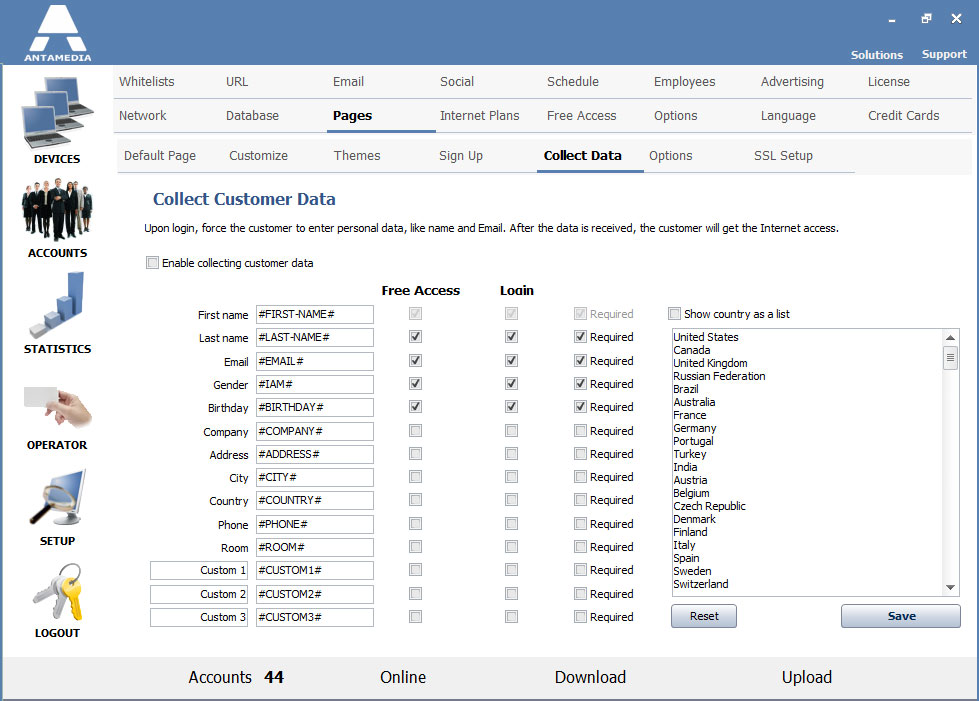 Enhanced Collect Customer Data feature.
Ability to choose fields that are collected: first and last name, Email, gender, birthday, company, address, city, country, phone, room.
There are 3 custom fields that can be renamed.
All fields are configurable separately for free access and standard login.
Desired fields can be marked as required.

Technical support to get setup fast and easy.

Learn the powerful management features.

Buy it when you are convinced we are the best.
No reinstallation. Keep all your configurations.

License is good forever. Free updates until next major release.

Technical support: Email, Phone, Online chat