HotSpot Credit Card Payment Module
The secure automated payment process lets you accept over 70 major internet payment gateways including PayPal
HotSpot Credit Card Payment Module
Credit cards configuration
HotSpot's Credit Card Payment Module helps you to save time and resources by allowing the customer to create and pay for network access directly from their computer.
With this option you can install unattended HotSpot gateway and our software will do all the job.
Visitors who are willing to use your services can sign up for username and password, choose a price plan and pay with their credit card.
The processing occurs within seconds and your customers are able to continue using your services.
Complete list of the supported payment gateways is listed here.
The module can be purchased for any edition.
For most of the payment gateways you need to set your merchant username and password, while some of them require an API signature issued by payment gateway and configuration of proper currency code.
If the gateway requires special configuration, Hotspot will display a note on the page after selecting desired payment processor from drop down menu.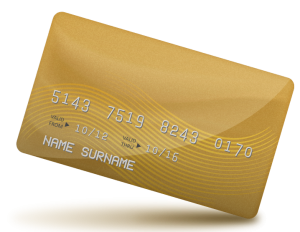 The most popular payment gateway is PayPal, 3 processing methods are supported in HotSpot:
Website Payments Standard
Payment is initiated on the HotSpot login page and completed on PayPal site. To configure this method, please enter your business email.
Website Payments Pro
Payment is completed from our software and there is no need to transfer a customer to PayPal site. Processing is completed faster but this option requires PayPal account with Payments Pro option enabled which is usually charged monthly by PayPal.
Express Checkout
Payment is initiated on the HotSpot login page  and completed on PayPal site. Customer can use existing PayPal account for the payment which significantly simplifies order, and the credit card payment is available for new customers who doesn't have a PayPal account.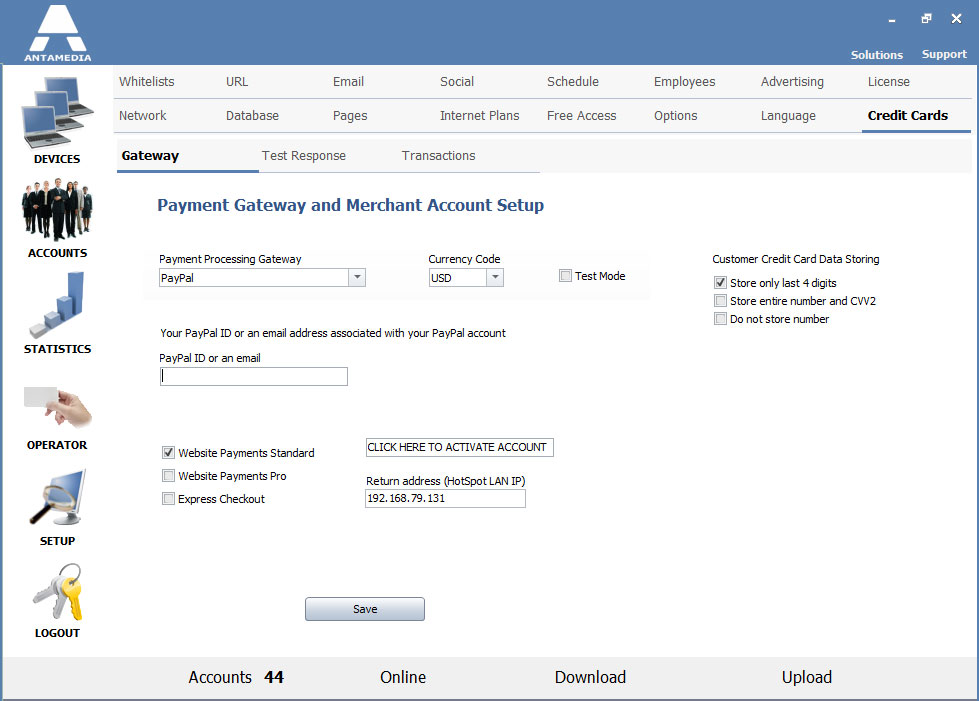 To configure PayPal Website Payments Standard in Hotspot, you need only PayPal ID or an email associated with your PayPal account.
1. Select PayPal from Payment Processing Gateway drop-down menu
2. (Optional) Set currency that will be used for transaction
3. Enable Website Payments Standard checkbox
4. Enter PayPal ID or an email associated with your PayPal account
5. Make sure that Return address is the same as IP address of LAN (NIC2) network card
6. Click Save button
For other methods, PayPal API signature has to be created.
Please check at PayPal website what are the current requirements for API signature creation.
Whitelisting of servers which are used during payment processing is required.
Please click Refresh Now link on HotSpot  Setup – Whitelist – Host Whitelist page.
Try it Free
Technical support to get setup fast and easy.

Learn the powerful management features.

Buy it when you are convinced we are the best.
Buy Your License
No reinstallation. Keep all your configurations.

License is good forever. Free updates until next major release.

Technical support: Email, Phone, Online chat

Download Free Trial and Test HotSpot Software Now!
We're here to help.
We'll help you configure everything
Technical support: Email, Phone, Online chat
No obligations, zero-risk free trial