Easily Manage All Your Printers
Installing YOUR Print Manager is easy
Install Print Manager on one computer and Print Agent on each computer where you want to control printing. 100% software based, runs on any Windows – from Xp to Windows 7.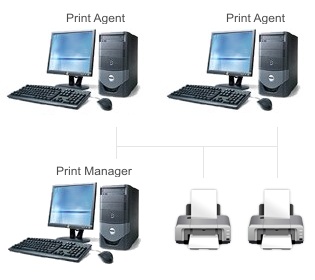 University, School, Library
Set student printing quotas and restrictions by account balance, number of pages and copies, color, available printers. Automatically reset quotas daily, weekly, monthly or annually, for desired users or users groups, or refill money balance. Affordable licensing with unlimited user accounts.

Companies, Government
Control and limit users, user groups, organizational units, printers, and save on printing costs. Get notified by email when printer supplies drop and check each printer toner supply status. Prevent personal printing outside of working hours. Track print logs and get real-time statistics.

Internet Cafe, Game Center
Bill your customers for printing or set limits on allowed number of pages per customer. Configure different print cost for every printer connected. Price can be configured per page, or separately for color and black & white printing.

Hotel, Resort, Hospitality
Provide print services for guests or personal. Profit by billing for printing using in-depth pricing plans with auto-top-up or pay as you go. Restrict or charge per page, if color etc. Blocks documents by keyword e.g. "confidential". Safe to install, entirely software driven – no hardware or upgrades required.
Try it Free
See how easy it is to setup
Learn the powerful management features.
Buy it when you are convinced we are the best.
Buy Your License

No reinstallation. Keep all your configurations.

License is good forever. Free updates included until next major release.

Ability to transfer license to new computers.

Free technical support: Email, Phone, Online chat, Forum.