HotSpot Software Version 3
The industry leading software for WiFi HotSpot access and Hospitality HSIA control brings many new features that improves user control and user's browsing experience on iPads, smart phones, laptops.
New Features for Free HotSpots, ISP Billing, HSIA, WiFi HotSpots: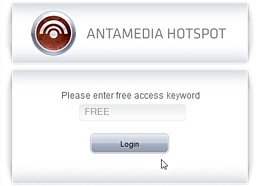 • Postpaid billing – the price plan is added to the account invoice and can be manually billed at a later date
• Usage-based billing – time and quota start from 0 and accumulate with the customer use
• Free accounts – when no billing is required, but still all account features are needed
• Free Unregistered users ( Free users) is moved to the main accounts panel
As before, you can use prepaid billing, tickets, refills and combine free trial use with paid faster access

New sign-up methods:
• Free signup with Email confirmation – the password is sent to the provided Email address
• Free signup with SMS confirmation – the password is sent to the provided mobile
• Free signup with Name, Email and SMS confirmation – Collect data for marketing purposes and confirm the mobile number
• Free access with name, Email and terms of use: helps you collect names and Emails from your customers in a super-simple process
Signup is tied to the location (see Multi-location Support below), and you can offer free signup on one location and paid signup on the other location, with defined time of day or usage schedule.
Account Management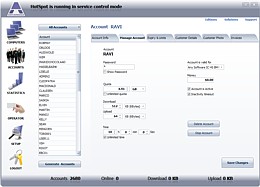 - Reorganized accounts layout for better usability
• Remote HotSpot Operators show logged-in customers
• Easily print invoices for postpaid users and mail to the address
• Import accounts from CSV file
• Improved database handling when multiple HotSpots are running on the same database server. The account quota is synchronized on every hotspot when the same account runs on multiple HotSpots
• Select how / if you wish to collect customer credit card details to comply with PCI DSS Compliance
• Corrected account update method which was causing problems with other accounts while the application was being reinstalled
Multi-location Support with Flexible Scheduling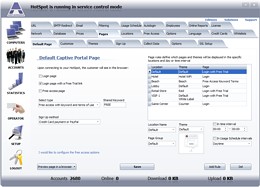 Display a different login page in different parts of your network (like Shopping malls, Virtual ISPs, Hotel lobbies, rooms, restaurants on the beach, etc). Based on your network IP segments you can assign a different theme, login page and signup method to each location. For example, in a lobby you can provide a free service, while in the rooms you can offer only paid service. The Internet access (using defined pages and theme) can be scheduled for a time period, daytime, nighttime, slow selling hours, weekends, or any combination you make. Customer may use free internet within allowed hours or may upgrade to a paid higher level account in order to enjoy faster Internet connection, more data transfer or time allowed.
Unicode HotSpot Pages, Auto-translation, Mobile version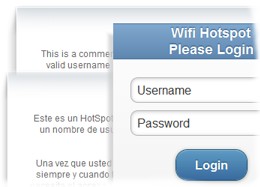 HotSpot pages displayed in the customer browser have been reprogrammed to bring several advanced features:
• Unicode support helps you use any language on the pages
• Automatic translation of the pages is performed real-time, based on the predefined language in the customer browser
• Automatic selection of computer or Mobile version of the pages, depending on the device. The mobile version is based on jQueryMobile and is applied to iPhone, iPad, Android, Blackberry, and other smart phones and devices.
• Create different groups of pages (for example, different login pages for different locations)
• Pages are stored in memory to improve web server performance

Automatically Login Multiple Devices with one Account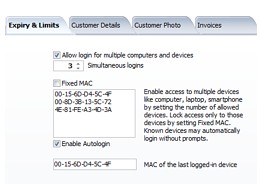 Improved Multilogin feature helps customers get the Internet access to multiple devices like computers, laptops, smartphones etc. You can control the number of allowed devices per customer and you may lock access only to those devices with a configured fixed MAC. The known devices may automatically login without prompts which create a good customer experience for your customers. Autologin feature is extended and reprogrammed to support multiple devices.
Link Load Balancing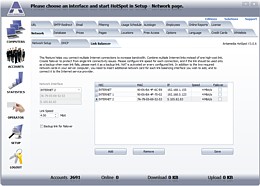 Use multiple cheaper ISP lines to get a link fail-over and link load balancing. By using multiple ISP links, you will ensure your uptime even if one of the ISPs is not available. Aggregating multiple links increases throughput for both upload and download, which creates a better user experience. The normal functioning of the Internet reduces money loss, failed transactions, help desk calls and potential customer switching to the competitor ISP. The feature is available in the Enterprise edition and can be additionally extended with desired number of links (call for quote). Load balancers available on the market start from $1800 for 2 ISP lines: you can save a lot of money only with this feature.

Web Filter, URL Blacklist and Whitelist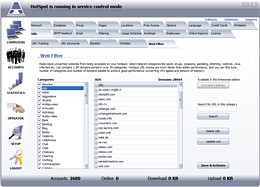 Web Filter includes 2.5M domains sorted in over 90 categories. It helps you easily block unwanted websites from being accessed on your hotspot, based on predefined categories like adult, drugs, weapons, gambling, phishing, violence, virus infected etc.
URL Filter is a new tool for checking HotSpot URL logs by account, IP, MAC, URL etc. You can filter logs, search for specified URLs, track user behavior online.
Significantly improved URL filtering. Introduced blacklist, whitelist and ability to import domains from file.
Active Directory Integration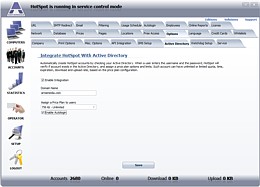 Active Directory integration helps you automate the account management in your network. The configuration of the feature is easy: you type the domain name, select a price plan and optionally enable autologin. When a user enters the username and the password, HotSpot will verify if the account already exists in the Active Directory and assign price plan options and limits. Such account can have unlimited or limited quota, time, expiration date, download and upload rate, based on the price plan configuration. This feature is suitable for companies and organizations as it handles the manual work of the administrator and keeps passwords updated with the main AD system.
Hotspot Performance Improvements, Run HotSpot as Service
• Improved software performance
• Auto-recovery of the network cards when driver fails or the Internet stops (low quality network cards were stopping the Internet traffic)
• Run as a service (HotSpot, DBServer, DHCP, Watchdog), there is no need to login in Windows account
• When running as a service, additional HotSpot can be started on the same computer to manage hotspot and close afterwards. HotSpot will continue to work in the background
• HotSpot uses HKLM registry path now and works on any Windows account
• Watchdog Service controls the main HotSpot gateway functionality. You can activate control using different parameters like restart hotspot if there is no bandwidth for a specified time, or if there are no new users
• Memory optimization
PMS Integration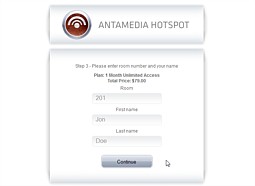 Connect HotSpot with Hotel Proprietary Management System. The interface helps your guests sign up for the Internet access and post charges to the room. Currently supported interfaces are: Fidelio 8, Opera 4 & 5, Protel, InnQuest, ICG, Micros, Clarity, King Smart, WinHMS. We can provide support for other PMS upon request.
Other New Features
• Windows 8 support
• Integrated DHCP for easier control
• Easily print and export customer data in CSV, TXT, XLS, PDF, HTML. Report includes full name, email and mobile phone in addition to the standard account data
• Use HotSpot Operator to display logged-in devices and computers on the remote hotspots running on the same database
• Ability to specify your company information and logo which appears on invoices
• Free access settings for re-enabling expired user in days, hours or minutes
• SMS service provider configuration for sending messages to mobile phones. This feature is used for a Free based signup in order to send a password to the customer phone, SMS marketing and other texting requirements.
Try it Free
See how easy it is to setup.
Learn the powerful management features.
Buy it when you are convinced we are the best.
Buy Your License

No reinstallation. Keep all your configurations.

License is good forever. Free updates included until next major release.

Ability to transfer the license to new computers.

Free technical support: Email, Phone, Online chat, Forum.
If you already own HotSpot V2 license, please check special upgrade pricing at Upgrade Now button.